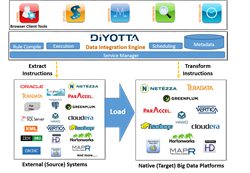 "Through this partnership MapR customers can now dramatically reduce data latency," said Mike Lindsey, VP of Sales and Marketing at Diyotta. "Our unique frictionless approach reduces costs, increasing scalability and speeding time to value."
Charlotte, NC (PRWEB) March 18, 2014
Diyotta, the leading provider of frictionless big data integration solutions for MPP data warehouse appliances and Hadoop, today announced it has entered into a partnership with MapR Technologies to provide customers the ability to seamlessly combine Diyotta's Data Integration Suite with MapR's proven, enterprise-grade Hadoop platform.
The Diyotta suite, purpose-built and optimized for MapR, allows customers to fully leverage the power of their MapR platform to rapidly stage data, process complex transformations and enrich their data fully on-platform without the costs, delays and scalability issues inherent with intermediate ETL/data integration tools and associated hardware.
By leveraging Diyotta's pure ELT approach to data integration, data latency and time to value are dramatically reduced by avoiding landing and processing data on expensive ETL platforms by employing frictionless data movement directly from source to target with no intermediate stops on the way by. By eliminating the intermediate servers required by traditional data integration tools Diyotta provides unlimited scalability and significantly reduces total cost of ownership.
"Through this partnership, MapR customers can now dramatically reduce data latency with our full featured big data integration solution purpose-built for Hadoop," said Mike Lindsey, VP of Sales and Marketing at Diyotta. "Our unique frictionless approach eliminates intermediate ETL tools and hardware thereby reducing costs, increasing scalability and speeding time to value."
Diyotta helps businesses achieve the lowest total cost of ownership, fastest development and easiest deployment of any data integration solution available today. Diyotta empowers the enterprise to fully leverage MapR, readily getting the most from their data and reducing data latency from hours to minutes while scaling with the enterprise as data volumes increase.
About MapR Technologies
MapR delivers on the promise of Hadoop with a proven, enterprise-grade platform that supports a broad set of mission-critical and real-time production uses. MapR brings unprecedented dependability, ease-of-use and world-record speed to Hadoop, NoSQL, database and streaming applications in one unified big data platform. MapR is used by more than 500 customers across financial services, retail, media, healthcare, manufacturing, telecommunications and government organizations as well as by leading Fortune 100 and Web 2.0 companies. Amazon, Cisco, Google and HP are part of the broad MapR partner ecosystem. Investors include Lightspeed Venture Partners, Mayfield Fund, NEA, and Redpoint Ventures. MapR is based in San Jose, CA.
About Diyotta
Diyotta enables companies of all sizes to accelerate time to value of their data assets for BI reporting and analytics by fully leveraging the power of MPP data warehouse appliances and Hadoop through a feature-rich, intuitive and high-performing big data solution, the Diyotta Data Integration Suite. Diyotta provides a fully-integrated, modular platform to optimize and automate data integration through a unique frictionless approach to data movement, leveraging the target platform as the transformation engine. Established in 2011, Diyotta Inc. is a privately funded venture headquartered in Charlotte, NC and has offices across the North America and Asia Pacific.
For more information, please visit us at http://www.diyotta.com reach us by phone at +1-888-365-4230