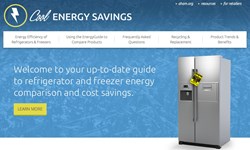 "Once again, Trajectory came through for AHAM delivering a highly effective website." - Jill Notini, VIce President, Communications and Marketing, AHAM
Morristown, New Jersey (PRWEB) January 14, 2014
To address potential confusion over updated U.S. Department of Energy (DOE) energy efficiency standards for refrigerators and freezers and newly revised EnergyGuide labels, Trajectory has developed a responsive website (supports desktop, mobile, and tablet browsing) for the Association of Home Appliance Manufacturers (AHAM) – the voice of the home appliance industry. Many consumers don't realize that in 2014 all refrigerators and freezers will be subject to more stringent energy efficiency standards and are required to display new EnergyGuide labels..
As such, AHAM engaged branding and marketing agency Trajectory to develop an informative, easily accessible website that shoppers and retailers could reference during this transitional period. The site, coolenergysavings.org, simply guides users through the changes and demonstrates how to compare old and new EnergyGuide labels. The DOE changes result in, on average, full-size refrigerators and freezers being 25% more efficient than older models. The website also describes how new refrigerator/freezer models will benefit consumers, and even gives tips on how to recycle appliances properly. There is also a secure retailer resource section that will continually be updated.
Jill Notini, Vice President, Communications and Marketing of AHAM states, "Once again, Trajectory came through for AHAM delivering a highly effective website, under tight deadlines. It was just the tool we needed to solve an immediate market issue impacting consumers, retailers and other industry influencers."
About Trajectory
Trajectory is a strategic branding and marketing agency that launches, re-energizes and helps brands to play at their best, everyday. The agency works exclusively across three connected industries – health, wellness and leisure – where the common threads are consumers who want to feel better, look better and play better, and brands that fulfill these aspirations and goals.
Representative clients include Arnold Palmer Enterprises, Emergency Medical Associates, Pacific World's SensatioNail, Palomar (PaloVia Skin Renewing Laser) and Reading Health System. Learn more about Trajectory by contacting Eric Brody, President at 973-292-1400x201 or email him at eb(at)trajectory4brands(dot)com.
About Association of Home Appliance Manufacturers (AHAM)
AHAM is the trade association of the home appliance manufacturing industry. Its members include the manufacturers of "major," "portable," and "floor care" home appliances and the companies who supply and service these manufacturers. AHAM is also an EPA-approved certification body for the ENERGY STAR® program, operating several product verification programs.