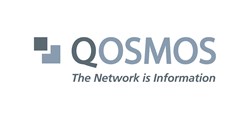 The recent series of wins consolidates Qosmos' market share at 70% of the worldwide embedded DPI market.
Paris, France (PRWEB) January 16, 2014
Qosmos, the market leader in embedded Deep Packet Inspection (DPI) and network intelligence technology, today announced that it had been selected by 21 technology companies during 2013 for inclusion in their products for the telecommunications and security industries. This record year confirms Qosmos' position as the dominant supplier of embedded DPI software.
Undisputed leadership position with 70% market share
The recent series of wins consolidates Qosmos' market share at 70% of the worldwide embedded DPI market(1). Qosmos technology can be used in a wide variety of use cases including mobile traffic management, policy enforcement, Big Data analytics, service assurance, application delivery networking, enterprise mobility, and network security. Many of the company's customers are leaders in their domains and they choose Qosmos because the company's technology provides the most detailed traffic visibility available on the market (2,000+ protocols recognized and 6000+ metadata extracted) combined with the high performance of constantly updated software. During 2013, Qosmos supplied DPI technology to three of the top six network equipment providers and strengthened its partnerships with HP and Intel.
Shaping the role of network intelligence in future networks
Qosmos creates the service-awareness required by today's networks and tomorrow's architectures based on Software Defined Networking (SDN) and Network Functions Virtualization (NFV). As a market visionary, the company is shaping the role of DPI and network intelligence in future networks thanks to active participation in standards bodies such as ETSI, IETF and ONF. During 2013, Qosmos has also showcased practical implementations with CloudNFV, a multi-vendor NFV demonstration platform (August 2013), and with the world's first demo of a virtual switch with embedded DPI at the Intel® Developer Forum (September 2013).
Quotes:
Thibaut Bechetoille, CEO: "I am delighted to see the market endorse our leadership for embedded DPI software. Thanks to our strategic vision and our ability to deliver, we have become an indispensable technology in today's connected world and for future networks based on SDN and NFV."
Jerome Tollet, CTO: "Technical evaluations performed by our partners and customers consistently demonstrate Qosmos' unique ability to combine high performance with detailed understanding of network traffic both in physical and virtualized environments."
Qosmos' flagship product ixEngine is the most widely used DPI and metadata engine in telecoms, cloud and SDN architectures. Qosmos ixEngine® identifies and extracts information traveling over networks in real time, providing a true picture of the traffic by identifying protocols, types of application, and extracting additional information in the form of metadata. Equipment makers, telco and enterprise software vendors and cloud service providers use Qosmos to gain application visibility, accelerate time to market and benefit from continuous signature updates.
(1) Overall visibility of worldwide deals shows Qosmos to have a 70% share of the embedded DPI market.
About Qosmos
Qosmos turns networks into information sources, making them application- and service-aware. The company's award-winning Deep Packet Inspection (DPI) and Layer 7 Network Intelligence (NI) technologies recognize thousands of communication protocols and metadata attributes, creating an essential information layer that gives the most accurate picture of real-time data activity on networks.
Market-leading equipment makers, specialized software vendors and cloud service providers embed Qosmos in telco and enterprise solutions where real-time service awareness is critical, such as traffic optimization, policy management, quality of experience, analytics, cyber security and more. Qosmos software development kit and soft probes can be used in all environments – physical, virtualized and in SDN architectures – to accelerate time to market and ensure continuous signature updates.
A pioneer in embedded Network Intelligence software, Qosmos is the leading independent OEM provider on the market today, serving more than 60 companies worldwide. Based in Paris, Qosmos has offices in Silicon Valley, Singapore and London. For more information, please visit http://www.qosmos.com.