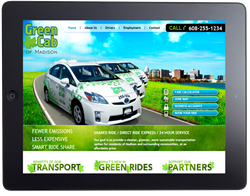 Any company dispatching and tracking cargo can benefit from a seamless solution like this.
Chicago, IL (PRWEB) January 15, 2014
In 2010, Promet Source - an industry leader in complex web and mobile app development - developed a dispatch solution for Green Cab of Madison (based in Madison, WI): a custom-developed iPad app to schedule rides; handle credit card payments through Square and ROAMpay; communicate with drivers through Skype; and use Google Maps for real-time location data. Green Cab needed a mobile solution that would replace the noisy and inefficient back-and-forth communications typically handled by two-way radios.
Promet used its experience integrating complex back-end systems with mobile websites to create a simple user interface to allow drivers to communicate with the central dispatch system. The cloud-based solution allows Green Cab's central operators to assign cabs to the nearest customers who call in with a request for a ride. The nucleus application is web-based and is operated by central dispatch; it integrates with smartphones and a customer website on the consumer side and communicates with iPads for drivers.
Since its release in 2010, the Green Cab App has garnered many accolades from the press. Wireless Week, Digital Transactions Magazine and Philadelphia News are among the many media outlets who have reported on its innovation. Further, the application received "Best Mobile Drupal CMS App" in 2012 from the CMS Expo. However, Green Cab's success is demonstrated best by its ever-increasing use. In 2013, Green Cab of Madison celebrated a major milestone: delivering over 1 million rides. On heavy traffic days (e.g. sports events), they accommodate over 1,400 rides each day. Monthly, Green Cab delivers 25,000-40,000 rides throughout Madison. The fleet has grown to over 40 cabs, an increase of over 300%.
With growing numbers in fleet, employees and customers, Green Cab of Madison sought Promet Source to help launch an improved and up-to-date version. Promet migrated the central dispatch web application from Drupal 6 to Drupal 7. This central application has an improved map for dispatchers; they can see cab's locations with more data. Now, dispatchers can use the map to see which cabs are occupied, which rides are assigned to whom, and identify pickup and drop-off locations. The iPad app used by drivers was updated and refreshed as well; drivers can now log breaks so dispatch knows that they are unavailable.
For consumers, Promet Source developed a new Android version of the public app in addition to the iPhone app which enables consumers to book and track rides. Additionally, Promet developed a consumer website where riders can book travel.
The innovative solution which connects drivers, dispatch and riders is user-intuitive. Further, it's a repeatable solution. "This is a delivery dispatch service so its applications are endless. Any company dispatching and tracking cargo can benefit from a seamless solution like this. The shipping industry could track trucks in the field or packages being delivered. The service industry could efficiently manage scheduled at-home appointments for appliance service. The possibilities are endless for dispatch and delivery management." - Johnnie Fox, Lead Project Manager at Promet Source.
Promet Source is a leading interactive development firm that implements open source tools to deliver high-value web and mobile application development & support. Promet offers a turn-key solution delivered by experts in the field: Sprint 0 planning, design, architecture, development and deployment. After deployment, Promet provides ongoing support & maintenance. Promet serves clients globally across multiple industries - specializing in higher education, non-profits, start-ups, government, healthcare and professional services. Learn more at http://www.prometsource.com