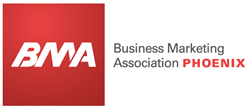 From the business problems we solve to the tools we use and the deadlines and benchmarks we're held to on a daily basis, B2B marketers are unique. That's why there is such a critical need for an organization like BMA.
Phoenix, AZ (PRWEB) January 14, 2014
Advancing its agenda to serve as the connective tissue and source of world-class resources for the Arizona business-to-business (B2B) marketing community, the Phoenix Chapter of the Business Marketing Association (BMA) today announced its 2014 Board of Directors, led by new board President Scott Salkin of IDS Technology Marketing.
The association also revealed its first quarter programming lineup, which kicks-off with a networking reception featuring four renowned members of BMA's national board, including Steve Ligouri, executive director of Global Marketing for GE, sharing B2B sales and marketing best practices for businesses of all sizes. B2B professionals are encouraged to register early for this can't miss event with cocktails and appetizers being held on January 22, from 4 p.m. – 7 p.m. at the Marriott Tempe at the Buttes. Online registration can be completed at: http://bmaphoenix.org/events/bmas-2014-national-b2b-sales-and-marketing-outlook-and-networking-reception/.
"BMA is instrumental in advancing careers for B2B sales and marketing professionals," said Salkin. "From the business problems we solve to the tools we use and the deadlines and benchmarks we're held to on a daily basis, B2B marketers are unique. That's why there is such a critical need for an organization like BMA, who is focused 100 percent on B2B education and networking for like-minded professionals who can share best practices and success stories."
The BMA Phoenix board is committed to building and delivering a programming schedule focused on featuring world-class experts to educate local B2B marketing and sales professionals on key trends and topics critical to both their companies and their careers. BMA's first quarter 2014 programming schedule includes:

January 22, 2014 – 2014 National B2B Sales and Marketing Outlook and Networking Reception: Speakers: Stephen Liguori, executive director of Global Innovation and New Models, GE; George Stenitzer, VP of Communications, Tellabs; Howard Sherman, president and CEO, Doremus; Carla Johnson, President, Type-A Communications
February 12, 2014 – Smarter Marketing for Better Results: Speaker: Marketo Co-founder Jon Miller
March 18, 2014 – The Art of Storytelling in the B2B World: Speakers: Linda Capcara, president, TechTHiNQ and Stacy Lloyd, principal, Lloyd Media Group
BMA is also launching a quarterly "B2B for SMB's" educational series in 2014 in partnership with Scottsdale-based venture development and commercializor firm Tallwave. The first event in this series will take place on March 12 at Infusionsoft's headquarters in Chandler and focus on "Three Lead Generation Strategies Every Small Business Needs to Grow Revenue in a Big Way."
"The goal of this series is to help Valley's growing ecosystem of entrepreneurs, startups and small businesses learn best practices for marketing and lead generation that can allow them to more effectively compete with their larger competitors," said Charlie Babb, VP of Programming for BMA Phoenix. "There's no one better to help us with this than Tallwave and we're thrilled to have Infusionsoft's participation as it aligns directly with their dedication to helping small businesses succeed."
The 2014 BMA Board of Directors features a diverse representation of B2B marketing, sales and lead generation experts from some of the Valley's leading B2B companies:
President – Scott Salkin, Founder and CEO, IDS Technology Marketing
Vice President of Membership – Anthony Kennada, Head of Marketing, Gainsight
Vice President of Programming – Charlie Babb, President, ConnectZen Marketing
Vice President of Communications – Lisa Burks, Director of Client Services, IDS Technology Marketing
Vice President of Sponsorship – Matt Nixon, Business Development Manager, 29th Drive
Treasurer – Sonia Bovio, Senior Vice President, Brodeur Partners
Secretary – Patrick Howley, Director, Business Development, Redflex Traffic Systems
Ex Officio President – Matt Hensler, VP, Strategy & Marketing Services, Elevation Marketing
Communications Committee:

Molly Castelazo, Founder and Chief Content Strategist, Castelazo Content
Linda Capcara, President and Founder, TechTHiNQ
Janae Limongelli, Sr. Marketing Program Manager, Avnet Technology Solutions
Programming Committee:

Leigh Goldstein – VP, Operations and Events, Arizona Technology Council
Todd Speranzo – VP, Marketing, Avella Specialty Pharmacy
Ryan Naylor – President and Founder, LocalWork.com
Bret Larsen – Director of Marketing and Strategy, Tallwave
Young Professionals Committee:

Cory Fetter – Public Relations Specialist, Infusionsoft
Julie Hafemann – Account Manager, IDS Technology Marketing
Marquis Arriaga – Marketing Campaign Manager, IDS Technology Marketing
Jonathan Parks – Business Development Manager, Avnet Electronics Marketing
Ashly Childers – Office Coordinator, Bishop Fox
Nick Dan-Bergman, Business Development Coordinator, Lane Terralever
Registration for BMA Phoenix events is open to both members and non-members. Details can be found at http://www.bmaphoenix.org. For more information on membership, you can also visit http://www.bmaphoenix.org/resources/join-bma-phoenix.