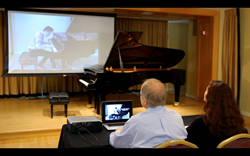 "It is revolutionary using the Disklavier's advanced capabilities along with refined data recording technology to truly capture a student's performance," said Jeff Tasch, owner of Grand Piano Haus in Skokie, lll. (one of the selected DEN audition sites).
Buena Park, CA (PRWEB) January 13, 2014
Yamaha has launched its Disklavier Education Network (http://www.YamahaDEN.com), an ambitious web initiative poised to change the way in which schools, educators and students collaborate with each other, conduct master classes over the Web and audition students, thanks to the company's Internet-connected reproducing piano.
The initial focus of the new website is on the world's first online college piano audition program that replicates an in-person performance, which runs from early January through mid February. Working in partnership with 17 community colleges and universities along with 27 audition sites, Yamaha is now offering young pianists the opportunity to record video-synchronized auditions on Disklavier PRO reproducing pianos that are shared with college admissions and scholarship committees over the Internet. At their convenience, audition committees will be able to access these time-shifted performances via the cloud, watching the students play on a large screen while their own piano reproduces these performances as though the student was in the room.
A complete listing of the participating schools and audition sites can be found at http://yamahaden.com/auditions
First introduced 25 years ago, the Disklavier has earned a formidable reputation at colleges and universities around the world both for its artistic qualities and its ability to reproduce accurate, note-for-note performances—ideal in the sharing of lesson and performance content.
Now in its fifth generation of refinements, the Disklavier has been imbued with powerful networking capability that enables two or more instruments to be connected over the Internet via Yamaha's proprietary RemoteLive™ technology, which makes the Disklavier Education Network (DEN) service possible.
In simple terms, this enables pianists to perform live in one location, while their exact keystrokes and pedal movements are transmitted in real time to other instruments located anywhere else in the world, along with synchronized video. The pianists' keystrokes are then faithfully reproduced, note for note, in real time (via MIDI data) on the remote instrument, as if they were there in person, while they can be seen and heard on an adjacent monitor in perfect sync with the remote piano performance.
"The Disklavier represents unprecedented distance learning, performance and evaluation possibilities for teachers and students, and it was Yamaha's goal to provide a tool that clearly defines the benefits of this instrument and associated opportunities for education-minded audiences," said Jim Levesque, Disklavier Marketing Manager.
Jeff Tasch, owner of Grand Piano Haus in Skokie, lllinois and one of the selected audition sites, described the DEN College Audition program as a tremendous opportunity for students, academic music programs and Yamaha dealers across the country. "It is revolutionary using the Disklavier's advanced capabilities along with refined data recording technology to truly capture a student's performance and allowing that to be experienced as their audition virtually anywhere," Tasch said. "Even a professional could not distinguish whether someone is playing the instrument live or if it's a recording—the quality is that good. That obviously creates connections between students and schools that simply didn't exist before without one or the other party having to travel to be in the same room together. It's an exciting opportunity I hope many young pianists and music programs take advantage of."
Some of the premier music programs in the country are already participating in the Disklavier College Audition program, and leading educators are hailing its advantages both to work with students via remote instruction as well as to provide an unprecedented remote audition process for potential students that parallels an in-person performance.
"Our school, for instance, is in rural east Texas, three hours from the nearest major airport, so having the Disklavier's technology really levels the playing field for our school with institutions in metropolitan or other more easily accessible areas in terms of student auditions, lessons and master classes with concert artists who might not otherwise be readily able to work with our students," said Dr. Mario Ajero of Stephen F. Austin State University, a pioneer in employing the Disklavier in music education. "Playing the piano is such a complex activity. The fact that this playback technology recreates an entire performance, not just the sound, is truly invaluable for lessons as well as auditions."
Dr. Linda Christensen of Wayne State College, located in rural Nebraska, echoed many of the same points. "Not only will the DEN audition process allow us to connect with a far greater pool of applicants, but it will also get the word out more on our program, which is a welcomed competitive advantage," Christiansen said. "Instead of a question about traveling distances, this enables a virtually global network and a connection between our program, students and the entire world of music like never before."
Grammy Award winner, Dr. Angelin Chang, a faculty member at Cleveland State University, said she is excited about the vast possibilities the DEN program will provide. "There is nothing that can replace a live, in-person audition, but using the Disklavier in this way comes very, very close," Chang said. "This will certainly be beneficial both for students who are auditioning as well as to schools, because it allows a student to apply to several different schools at once, but also puts our school on the radar of many more students who might not have considered us before had we not been part of this network. The coupling of convenience and performance quality within the audition process is a very exciting development."
In addition to the Audition Program, Yamaha DEN member institutions and individuals participate in long distance lessons, master classes, and concert broadcasts, contribute recorded materials—such as instrumental and vocal accompaniments—to a community archive, share technical tips and "best practices," and enjoy access to premium support services from Yamaha.
Phase two of the DEN site will provide additional education-related RemoteLive content, such as remote master classes by premier pianists and will promote interactive two-way lessons where teachers and students can play for each other.
Added Levesque: "As impressive as the Yamaha DEN site is at its initial roll out, this is only the tip of the iceberg, and we have great plans for the future."
For more information on the Yamaha Disklavier Education Network website, please visit http://4wrd.it/YAMAHA_DEN.
About Yamaha
Yamaha Corporation of America (YCA) is one of the largest subsidiaries of Yamaha Corporation, Japan and offers a full line of award-winning musical instruments, sound reinforcement and home entertainment products to the U.S. market. Products include: Yamaha acoustic, digital and hybrid pianos, portable keyboards, guitars, acoustic and electronic drums, band and orchestral instruments, marching percussion products, synthesizers, professional digital and analog audio equipment, Steinberg recording products and Nexo commercial audio products, as well as AV receivers, amplifiers, Blu-ray/CD players, iPod docking systems, earphones, headphones, home-theater-in-a-box systems, sound bars and its exclusive line of Digital Sound Projectors. YCA markets innovative, finely crafted technology and entertainment products and musical instruments targeted to the hobbyist, education, worship, professional music, installation and consumer markets.