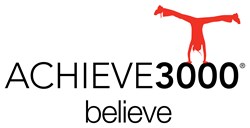 Our new app provides students even more time to practice their literacy skills and prepare for college and career.
Lakewood, NJ (PRWEB) January 14, 2014
Achieve3000®, today, announced the release of the Achieve3000 App for iPad®. The Achieve3000 App takes the differentiated learning model to the next level, allowing students to build literacy skills anytime, anywhere. The Achieve3000 App for iPad is available for free on the App Store.
"In classrooms all around the country, iPad devices are transforming education and extending the learning environment far beyond the classroom and the school day," said Saki Dodelson, Founder and CEO, Achieve3000. "Our solutions have always been available to students 24/7 on any device with a browser. With our app, Achieve3000 is now accessible whether or not they have an Internet connection. Our literacy solutions are proven to increase reading gains and the more students use our program the greater the gains. Our new app provides students even more time to practice their literacy skills and prepare for college and career."
The Achieve3000 App activates Achieve3000's differentiated content, making it accessible for all learners. The Achieve3000 App engages students through intuitive Multi-Touch technology, turning close reading of complex texts into a hands-on, intuitive experience. The app also features embedded audio, providing additional support for struggling learners and English language learners building literacy skills with Achieve3000. For students with special needs, the app offers innovative, accessibility features including VoiceOver, Speak Select and Guided Access.
The Achieve3000 App allows students to complete lessons wherever and whenever they are ready to learn – on the bus, at home or on vacation – even without a WiFi connection. All offline activity will sync automatically once an Internet connection resumes, allowing students to seamlessly transition across multiple devices.
The Achieve3000 App is free to users with a current Achieve3000 subscription to KidBiz3000, TeenBiz3000, or Empower3000. The Achieve3000 App can be implemented using iOS mobile device management solutions for education so setup is quick and easy.
The Achieve3000 App for iPad is available on the App Store at http://appstore.com/achieve3000.
About Achieve3000
Achieve3000® is the leader in online differentiated literacy instruction, serving millions of students across the United States. For more than 14 years, the company has been consistently helping students achieve significant Lexile reading gains—often double-to-triple the expected gains, compared to non-users of the system.
Based on decades of scientific research, Achieve3000 solutions deliver engaging, nonfiction content that supports core curriculum, Response to Intervention, English language learning, special education, and other instructional models. eScience3000® (for grades 6-8), KidBiz3000® (for grades 2-5), TeenBiz3000® (for grades 6-8), Empower3000™ (for grades 9-12) and Spark3000® (for adult learners) are aligned with Common Core State Standards for English language arts as well as New York State standards. Achieve3000 supports 21st century education initiatives across content areas and is raising student performance across the country. The company is based in Lakewood, N.J.