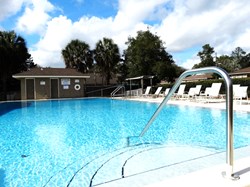 Tallahassee's huge university presence, stable real estate market and strong economy make it ideal for property investors.
(PRWEB UK) 14 January 2014
2013 saw US property sales hit their highest levels since 2006, according to the National Association of Realtors, signifying a long awaited stabilisation of the market and confirming a trend which Knight Knox International has been aware of for some time.
Situated only 3 minutes' drive to one of Florida's largest universities - Florida State, the Villages in Tallahassee is the perfect buy-to-let opportunity for any savvy investor. Conveniently located on Florida ́s North West coast, we have secured an unbelievably low priced selection of tenanted 1 and 2 bed condos ranging in size from 550-760 sq. ft. (51-70 sqm) and in price from $48,990 - $57,990.
This community was initially built with solid concrete block in 1968, and in 2006 it was completely renovated with new roofs and air conditioning systems, plus new kitchens and bathrooms. In addition to a swimming pool, volley ball court and laundry area; there are 95 units in total spread across 24 single storey buildings. Each property has a private patio in addition to a modern kitchen, spacious storage, telephone, internet and cable TV.
Individual units are available to purchase now through Knight Knox International, with prices starting at £29,950.
To register your interest, please contact Knight Knox International on +44 (0)161 772 1370 or visit the website.
-ENDS-
Notes for Editors
1. Knight Knox International is a market leading property investment company based in Manchester, UK. A Ltd. Company since 2004, the firm offers an extensive range of property and services on a global scale.
2. Specialising in new-build and off-plan buy-to-let developments in the UK, the company also provides a wide range of investment and lifestyle properties in Thailand, Turkey and the USA.
About Tallahassee
Tallahassee is the state capital of Florida and is home to a young, well-educated population and a vibrant economy. Its huge university presence, stable real estate market and strong economy make it ideal for property investors.
It has a metro population of 375,000 and a city population of 181,626 that has grown by an impressive 20% in the past 12 years. Due to a huge government and education section influence, the Tallahassee economy is extremely steady with high-income levels and a very low unemployment rate of 6.2%.
Government is the central focus of Tallahassee's economy, although education, healthcare, information technology, publishing, conferences and food processing are all major employers. In 2002, Forbes magazine listed Tallahassee as one of the Best Places for Business and Careers.
Tallahassee Universities
With more than 70,000 students, Tallahassee has one of the highest graduate populations in the USA and is widely praised for its business friendly culture and high-tech community.