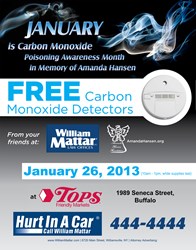 "We are glad to be able to partner with the Amanda Hansen Foundation and Tops Friendly Markets to provide our local community with free carbon monoxide detectors for their homes." - William Mattar
Buffalo, NY (PRWEB) January 16, 2014
William Mattar will be working in coordination with the The Amanda Hansen Foundation and Tops Friendly Markets to give away thousands of dollars worth of carbon monoxide detectors at the Tops Market located at 1989 Seneca Street in Buffalo on Sunday, January 26th from 10:00am until 1:00pm while supplies last. Individuals can stop by to meet Mr. Mattar and pick up their FREE detectors (one per household please).
Carbon Monoxide is most often referred to as the "silent killer" because it is odorless, colorless and tasteless. The best way of telling if it is present in your household is through the use of a Carbon Monoxide Detector. January is Carbon Monoxide Poisoning Awareness Month in the state of New York. That's why William Mattar Law Offices is partnering with local non-profit organization, The Amanda Hansen Foundation, to support awareness of this lethal gas and its harmful effects.
The Amanda Hansen Foundation was established in memory of 16-year-old Amanda Hansen who passed away from carbon monoxide poisoning while at a friend's house for a sleepover. The foundation's main goal is to spread awareness of the dangers of carbon monoxide in the home, and to distribute CO detectors to those who could not ordinarily afford them. The phrase they use most when spreading awareness in the community is, "Be a protector, get a CO detector."