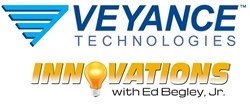 Fairlawn, OH (PRWEB) January 16, 2014
Veyance Technologies, Inc., announced today that they will be featured in an upcoming episode of Innovations with Ed Begley Jr, slated to air 2Q, 2014. Dates and show times TBA.
Veyance Technologies (formerly Goodyear Engineered Products) manufactures and sells Goodyear Engineered Products branded industrial power transmission products; heavy-duty and lightweight conveyor belts, hydraulics, rubber track; and automotive and heavy-duty truck belts, hose, tensioners, and air springs.
This episode will explore Veyance's products, which sustain the highest standards for product development, manufacturing, service, and leadership. Audiences will be educated on Veyance's efforts to nurture an unyielding spirit to imagine and believe.
"We are proud to be able to showcase our Industrial Hose products on the Innovations series. As a global market leader for Industrial Hose, we have consistently been able to provide the most technically advanced and innovative hose products available to our customers, in which the world has come to rely on," said Jim Hill, General Manager of Veyance Technologies.
"Veyance Technologies is dedicated to safety, excellence, and innovation," said Robert Sikich, producer for the series. "We're excited to bring this innovative information to the Innovations TV audience."
About Veyance Technologies, Inc: Veyance Technologies is a global industry leader in the world of rubber products from heavy and lightweight conveyor belt, industrial and hydraulic hose, power transmission products to air springs, rubber track and full range of automotive industrial belts and hose products. With 34 plants worldwide, ten focusing on just industrial hose, Veyance is the leader when it comes to the vast variety of industrial market requirements.
For more information, visit: http://www.goodyearep.com or call 888-899-6354.
About Innovations: Innovations, hosted by award winning actor Ed Begley, Jr., is an information-based series geared toward educating the public on the latest breakthroughs in all areas of society. Featuring practical solutions and important issues facing consumers and professionals alike, Innovations focuses on cutting-edge advancements in everything from health and wellness to global business, renewable energy, and more.
For more information, visit: http://www.InnovationsTelevision.com or call (866) 496-4065.
About DMG Productions: The DMG production team consists of producers, cameramen and editors that have worked for CNN, TLC, Discovery, and other major news and cable networks. Our staff includes personnel specialized in various fields from agriculture to medicine, independent films to regional news. Our field producers utilize the core concepts from our producers who storyboard our programs, and work closely with experts in the field to develop the educational programs. This powerful force enables us to consistently produce commercial-free, educational programming that both viewers and networks depend on.
Media Contact: Robert Sikich — Producer, Innovations / DMG Productions
(866) 496-4065 x 850 / Robert(at)InnovationsTelevision(dot)com