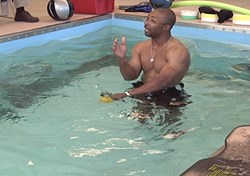 Using the water as a medium for rehabilitation techniques has an abundance of benefits.
Middletown, PA (PRWEB) January 13, 2014
With his dynamic personality and wealth of experience, Division I head football athletic trainer Murphy Grant is no stranger to giving advice when it comes to helping athletes return to tiptop shape after injuries. Throughout his career, he has facilitated the return of many college-level elite football players. Today, one of the primary tools he recommends for rehab and cross-training is the HydroWorx aquatic therapy pool with its embedded underwater treadmill and resistance jets.
On Wednesday, January 15, 2014, from 5:00 – 6:00 p.m. EST (4:00-5:00pm CST), Grant will share his expertise with participants during a free live webcast from the HydroWorx pool he uses at his University of Kansas facility. The webcast, "Taking a Step Forward: Return to Activity with Underwater Walking & Jogging", will offer viewers the opportunity to see how water can be utilized to help athletes recover from short-term or long-term absences.
During "Taking a Step Forward: Return to Activity with Underwater Walking & Jogging", guests viewing the webcast will learn:

How to help athletes increase their balance and build confidence as they heal.
How to know when a patient or athlete is ready to move to the next level of his or her recovery.
How to implement safe, effective progressions from non-weight-bearing activities to walking/jogging.
Exercise protocols that work for athletes and patients who can benefit from relearning proper gait.
The free webcast is ideal for athletic trainers, physical therapists and occupational therapists. Registration can be found at: http://ww2.hydroworx.com/webcast-murphy-grant.
About the Presenter
Murphy Grant has been a Division I athletic trainer for the past nine years, seven of which have been spent as the head football athletic trainer for the University of Kansas. For the past five years, he has also been the Director of Sports Medicine at the same University. Before his current position, Grant served as the Dallas Cowboys' strength and conditioning coach.
Grant's own athletic experiences include as a member of the Quincy University football team. His notoriety as an expert has led to TV appearances on The Biggest Loser, where he designed underwater treadmill pool workouts for contestants. He is married with two sons.
About HydroWorx
HydroWorx, based in Middletown, Pennsylvania, offers a wide range of underwater treadmill therapy pools, and peripheral products and services. Every day, more than 23,000 athletes and patients use HydroWorx technology to recover from injuries and health conditions.
More information about HydroWorx's upcoming webinars, as well as archived webcasts from previous events, can be found by visiting http://www.hydroworx.com/research-education/video-library/details.aspx?id=151&categoryId=23.
# # #