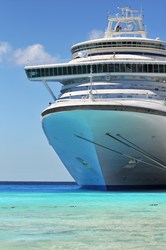 East Hartford, CT (PRWEB) January 14, 2014
The travel and cruise industry has officially launched "Wave Season" of 2014. Wave Season which runs from January through March is marked as the heaviest cruise booking period of the year. Cruise lines jump in and offer the best rates, deals and travel options of the year. Along with discounts, cruise lines are generous with incentives, like cabin upgrades, free onboard credit, pre-cruise hotels stays, pre-paid gratuities and secured bookings. Wave Season is largely driven by people from the East Coast and the Midwest looking to escape the cold winter months.Travel Insured International, a leading travel insurance provider for cruise travel, shares a few tips not only on booking the best cruise deal, but how to protect travel investments during Wave Season 2014 as well.

To find the best deals, always contact a travel agent who has affiliations within the cruise industry. Travel agents with these connections are able to guide travelers towards the best deals and options that may not be known about publicly.
Make sure to plan for adequate time between your flight and your booked cruise. No matter where you are traveling to and from, be sure to allow for adequate time between your flight and your ship's departure, perhaps even planning to arrive a night or two in advance so you will be sure not to miss the departure.
One of the newest and most popular types of discounted cruises is European River Cruises. Many European cruise line companies are promoting package deals and discounts to attract new passengers, so check them out first if that is of interest.
Contact the cruise line's customer service department and ask for information on any specials or additional discounts. Also mention the location of departure, ages of the travelers, and the number of people traveling together – all could influence the total price change.
Some of the best deals are found during the winter weather months as well as Hurricane Season. If a traveler wants to take advantage of a great deal during a riskier travel period, they need to be sure to protect travel plans with insurance that will cover cancellations and delays.
Think about all of your travel companions while booking. The types of cruises that are offered are endless from kid-friendly, to perfect for honeymooning, to entire family fun.
Cruise Vacation Protection-
Travel Insured International reminds travelers that when they purchase a cruise vacation it is important to protect the travel investments made even if they were purchased at a discounted price. A minimum recommendation is a comprehensive Worldwide Trip Protector or Worldwide Trip Protector Gold plan for the broadest coverage available. Both plans include up to full reimbursement of the prepaid, non-refundable trip cost for a covered Trip Cancellation, and up to 150% of prepaid non-refundable trip cost for a covered Trip Interruption. Both include a job loss of the insured or the travel partner as a covered reason for Trip Cancellation / Trip Interruption. Missed Connection, when a three-hour common carrier delay causes the insured to miss their cruise departure, or an unforeseen itinerary change causes loss of a prepaid shore activity, is included. Trip Delay, Emergency Medical Expense and Emergency Medevac, Baggage Loss or Delay, and Travel Accident coverage are also included.
About Travel Insured:
Travel Insured International is one of the largest privately held travel protection companies in the US, and preferred supplier to over 5,000 travel agents, travel consortiums and wholesalers in the US and abroad. As a former division of the Travelers up until 1994, and originator of travel insurance in the US, you can say that the "travel protection" blood lines run deep. Travel Insured International's customer centric claims operation has significant expertise in both domestic and international claims administration.
Travel Insured International
52-S Oakland Ave.
E. Hartford, CT 06128-0568