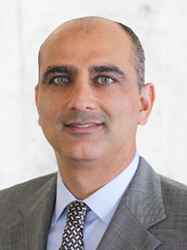 Hyperhidrosis can be very damaging mentally.
Beverly Hills, CA (PRWEB) January 23, 2014
Ali Mahtabifard, MD, is a board-certified thoracic surgeon at the Hyperhidrosis Center of Excellence in Los Angeles. In this department, Dr. Mahtabifard and a team of expert thoracic surgeons specialize in the diagnosis and treatment of hyperhidrosis, a condition characterized by excessive sweating.
"Hyperhidrosis can be very damaging mentally," says Dr. Mahtabifard. "Patients who suffer from the condition often experience anxiety in social situations, and the disorder can even affect personal relationships. At the Hyperhidrosis Center of Excellence, we can provide patients with lasting and effective treatment measures for hyperhidrosis."
Treatment options at the Hyperhidrosis Center of Excellence range from the conservative, such as Botox injections and medications, to long-lasting and minimally invasive surgery. Thoracic sympathectomy is a surgical procedure designed to eliminate the root cause of hyperhidrosis, and is one of the most high-tech and state-of-the-art procedures performed at the center.
"During thoracoscopic sympathectomy, we will make two small incisions on the side of the chest, through which we can access the nerves responsible for excessive sweating," explains Dr. Mahtabifard. "During the procedure, we use tiny fiber-optic cameras which transmit a live video feed to the operating room, giving us an unprecedented view of the surgical area."
Since the incisions made during thoracoscopic sympathectomy are so small, patients experience less scarring, less pain, and will recover from their procedure faster than from traditional methods of surgery.
"Though technology has made surgical procedures more effective than ever before, it still takes a skilled surgeon to perform the operation correctly," says Dr. Mahtabifard. "At the Hyperhidrosis Center of Excellence, our staff are experts at providing patients with the best treatment possible."
Ali Mahtabifard, MD, is double board-certified in general and cardiothoracic surgery with extensive training in comprehensive management and advanced surgical care of thoracic conditions and malignancies. His research has been published in numerous peer-reviewed journals, including the Journal of Thoracic and Cardiovascular Surgery, Journal of Immunotherapy, Clinical Cancer Research, Molecular Therapy, and has presented at the American Association for Thoracic Surgery. Currently, Dr. Mahtabifard performs surgery at La Peer Health Systems, an outpatient surgery center in Beverly Hills.
La Peer Health Systems is an outpatient surgery center in Beverly Hills, founded by doctors and focused on providing excellent patient care alongside the most cutting-edge medical treatments available. With 50 world-renowned physicians in 14 specialties, comprehensive medical treatment is offered that takes patients from consultation to diagnosis, treatment, surgery, and ultimately aftercare. The 14 medical departments include orthopedics & sports medicine, gastroenterology, head & neck surgery, colorectal & general surgery, podiatry, ophthalmology, pain management, plastics & reconstructive surgery, gynecology, spine surgery, interventional cardiology, bariatric surgery, thoracic surgery, and anesthesiology. Unlike large hospitals, La Peer's unique structure offers extremely personal care in a safe and controlled environment.
To learn more about La Peer Health Systems, visit http://www.lapeerhealth.com.