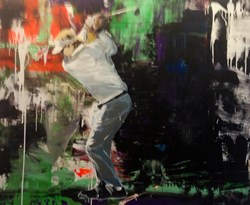 "Golf is deceptively simple and endlessly complicated; it satisfies the soul and frustrates the intellect...What other people may find in poetry or art museums, I find in the flight of a good drive"-Arnold Palmer
Beverly Hills, CA (PRWEB) January 14, 2014
Monterey Peninsula Foundation (http://www.montereypeninsulafoundation.org), host of the AT&T Pebble Beach National Pro-Am tournament, announced today that Painter and Beverly Hills Gallery Owner, Daniel Maltzman (http://www.danielmaltzman.com) has been selected as their featured artist for 2014.
Maltzman, an avid golfer, 10 handicap and member of the prestigious Hillcrest Country Club in Los Angeles, has created a Pop Art, color-splash, abstract based on last year's champion, Brandt Snedeker, for the 2014 tournament. The golf-themed painting will be used for posters, pairing sheets and tickets. The tournament features top PGA Tour Professionals like: Graeme McDowell, Jim Furyk, Brandt Snedeker, Hunter Mahan, Dustin Johnson and Nick Watney and numerous celebrities.
Arnold Palmer famously said, "Golf is deceptively simple and endlessly complicated; it satisfies the soul and frustrates the intellect. It is at the same time rewarding and maddening - and it is without a doubt the greatest game mankind has ever invented. What other people may find in poetry or art museums, I find in the flight of a good drive."
"I concur," said Daniel Maltzman, "Both art and golf are all encompassing; extremely tough, fun and move quickly from a hobby, to an obsession, to a way of life. You may read about technique and have fundamental's down in painting and in golf- but tenacious practice and intuitive feel is what makes you good. In both, you can think you're the best in the world one day, and the next you can't swing the ball or create anything. They are very elusive practices; hence appreciation for people at the top of their game is high. The AT&T Pebble Beach National Pro-Am for all these reasons has always been a golfer's paradise due to the challenging courses that are so difficult and so beautiful. The elements are brutal, the wind and cold, makes it tough and tests your skills. Only the most talented can play it well. As a lifelong golfer, I am honored to represent this passion and juxtaposition through my art and will continue to build out my golf-art collection."
Exposure to Maltzman's work continues this year as the painter was also chosen for a public art piece on the Sunset Strip in Hollywood. For the entire month of January, Daniel Maltzman's signature pop-surrealism paintings will be projected on two giant video billboards on the Sunset Strip. The two jumbotron screens will feature eight of his iconic paintings on a rotating slideshow for 20 hours a day. Maltzman's paintings of glamorous female forms, heavily textured backgrounds, dripping paint and vivid color will illuminate the Sunset skyline.
Maltzman played golf with his father as a child and acted as his caddy for 20+ ProAms and the Bob Hope Tournament. He enjoyed talking to everyone on the circuit and hung out with close to 60 pro golfers on the respective courses. He developed a mad passion for the game from the day he put a club in his hands and perseverance and tenacity led him to become a solid golfer. Golf and fine art are the largest parts of his life. "This dynamic inspired me to create my golf splash," said Daniel. "Because these paintings require much more time, I feel I am just breaking grounds for a new golf series of paintings."
Daniel grew up in Los Angeles; golfing, painting, surfing, going to the horse track, baseball stadium, Hillcrest Country Club, movies in Hollywood and attending concerts on the Sunset Strip. His art is heavily influenced by many such California themes. His paintings feature thickly layered and vibrant colored backgrounds, which often compliment an edgy female form, or the face of an iconic celebrity. Maltzman's other collections include: Shadow Figures and Abstracts. He is influenced by the work of Andy Warhol and Gerhard Richter.
"We found Daniel Maltzman's golf-themed artwork in the offices of Travis Mathews, an established and progressive golf apparel brand," said Steve John, CEO, Monterey Peninsula Foundation. "We are thrilled to have his art on our tournament posters, tickets and pairing sheets and look forward to his new collection of golf-themed art."
Monterey Peninsula Foundation awards grants to nonprofit organizations that benefit the community in the focus areas of Arts & Culture, Community & Environment, Education, Health & Human Services, and Youth. The Foundation's geographic funding area includes Monterey, Santa Cruz and San Benito Counties in Central California, with limited grants to organizations in Northern California.
Thanks to sponsors, spectators, contestants, volunteers and partners, Monterey Peninsula Foundation has surpassed the $100 million mark of funds raised for charity through the AT&T Pebble Beach National Pro-Am since the tournament began in 1937.
For more information, please visit our website: http://www.montereypeninsulafoundation.org
About Daniel Maltzman:
Daniel Maltzman's Pop-Surrealism art is collected by musicians, artists and savvy collectors including: Steve Wynn, Justin Beiber, Britney Spears, members of Bruce Springsteen's band, Adrian Greiner, Paris Hilton, Lee Iacocca, Howard Stern, Steve Tisch, Petra Ecclestone, The Galen Center and Eugenio Lopez (who just opened a new internationally acclaimed museum in Mexico City), among others. Both Daniel Maltzman and his Beverly Hills Gallery have been featured in a number of TV shows including: Real Housewives of Beverly Hills and Orange County, Rich Kids of Beverly Hills, Millionaire Matchmaker, The Dog Whisperer, etc.
###
Media and Art Contact:
Kortney D. Oliver
K.O. Communications for the Daniel Maltzman Gallery
Mobile: 415-866-7040,
Facebook: K.O. Communications
Email: Kortneyo(at)gmail.com