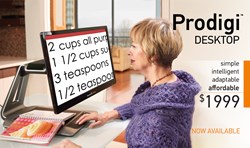 (PRWEB) January 14, 2014
The new Prodigi Desktop makes it more affordable than ever to see clearly and bring back the pleasure of reading to people with low vision.
For a significantly lower price than traditional CCTVs, the new Prodigi Desktop delivers features that people with low vision want and need: unique Diamond Edge TextTM technology for crisp, clear reading at any magnification, and simple to use Touch and TapTM controls that put everything at one's fingertips without having to use an X/Y table.
Users can magnify, read, and listen to whatever they want, save and retrieve family photos and important documents... With the new Prodigi Desktop, they enjoy a whole new quality of life. While other CCTV systems with speech are heavy, expensive, and take a long time to load text, Prodigi Desktop is sleek, lightweight, and displays and reads your documents out loud in seconds.
The Prodigi Desktop is designed to easily adapt to unique visual needs and personal preferences, and even has a built-in tutorial that helps get up and running with it right out of the box. Just plug it in and get started.
Prodigi won the prestigious Silmo d'Or Award for its innovation in the Low Vision category in Paris at the recent Silmo trade show for professionals in the optics sector.
Here's what customers are saying about Prodigi:
"I am just so happy with Prodigi! I've shown it to other people here, and they can't believe how sharp the text is to read. And they are simply amazed when I put it into speech mode and it talks to me!" Don Gaunt, 93, Massachusetts.
"Prodigi is such a blessing. I wouldn't give it up. I have read 2 books in the first couple of weeks I had it, and these books are over 500 pages long. The Diamond Edge Text is so crisp and clean on the screen, my eyes don't get tired like on those other devices." Tom Petersen, 84, Texas.
Prodigi is available in three models: Prodigi Duo, a desktop unit with removable Tablet; Prodigi Tablet, the portable magnifier by itself; and Prodigi Desktop, the new Desktop model. All models are available now from HumanWare and its network of authorized dealers.
Prodigi Desktop is now shipping! Call HumanWare today at 1-800-722-3393 to order yours, visit our website, or call your local Authorized HumanWare Prodigi dealer for a free demonstration.
Click here to learn more about the Prodigi line of products, and to view photos and a video: http://www.humanware.com/prodigi.
About Humanware
HumanWare (http://www.humanware.com), who is celebrating its 25th anniversary, is the global leader in assistive technologies for people who are blind or have low vision. HumanWare offers a wide range of innovative products, including the BrailleNote® Apex, the leading productivity device for the blind in education, business and for personal use; Victor Reader®, the world's leading family of digital audiobook players; the unique ProdigiTM family of desktop and portable vision and reading systems, and Trekker® Breeze, the all-in-one handheld talking GPS.
Please contact HumanWare for more information:
USA
Toll free: 1-800-722-3393
us.info(at)humanware(dot)com
Canada
Toll free: 1-888-723-7273
ca.info(at)humanware(dot)com
UK/Europe
Tel: +44 1933 415 800
eu.info(at)humanware(dot)com