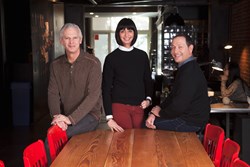 San Francisco, CA (PRWEB) January 13, 2014
Partners Grant Richards, Scott Aal and Kim Kline announce the agency formerly known as Engine Company 1 has changed its name to Chemistry Club. The quirky new moniker comes on the heels of recent account growth and reflects the agency's passion for exploration and experimentation, as well as the importance of relationships to the agency's ultimate success.
"We strive to foster good chemistry with our clients and with each other, and we work hard to ensure that the brands we work for build good chemistry with their customers," notes Richards.
The decision to rebrand the agency began early in 2013, when partners Grant Richards and Scott Aal brought on seasoned agency strategist Kim Kline as Partner, Director of Client Services. Kline, formerly led teams and accounts for the likes of Venables Bell & Partners and Evolution Bureau. Most recently, Kline leveraged her extensive knowledge of brand positioning and the ever-evolving media landscape as a marketing and advertising consultant. Richards, Aal and Kline chose to pursue a new agency name as part of a larger "recommitment to being better than we have ever been," notes Richards.
"The agency has gone through a period of very positive change in the types of clients we work with and the kinds of ideas we produce," adds Kline.
Recent account wins include start-ups, Zabada and HayTag, coupled with extensive work for LinkedIn and NBC News. Their long-standing relationship with the Monterey Bay Aquarium has yielded numerous awards including a DSA Royal Crown Award and Obie Award Finalist honors for 2013's "150 Feet of Awesome" campaign featuring interactive transit kiosks which allowed people to take a virtual dive 150 feet below the surface, take a photo and share it on social media.
Agency Ponders: 'What's in a Name?'
Rebranding the agency was a year-long process wherein all agency staff lent their creative talents to contribute ideas. "In the grand scheme of things, we realize, no one puts much stock in how an agency brands itself," says Aal. "The work is the only thing that really matters. Everything else is just window dressing. For our part, we've at least tried to make nice window dressing."
About Chemistry Club
At Chemistry Club, we make brands personal. We build emotional connections between companies and people, using all forms of media. Not surprisingly, we believe in good chemistry: with our clients, with each other, and, most importantly, between brands and their constituents. We labor obsessively to make people feel something from our work, to create brands worth believing in. Despite our name, that's as close as we get to having a formula.