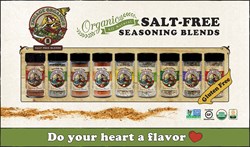 "The Natural Products Expo West was always the premier tradeshow for Parsley Patch Salt-free Spice Blends," says co-founder Pat Gage. "We are thrilled to debut Engage Organics Salt-free Spice Blends to this health-conscious audience."
Kelseyville, CA (PRWEB) January 15, 2014
Engage Organics Salt-free Seasoning Blends is set to debut a line of 9 organic, salt-free, gluten-free, Non-GMO verified, and local spice blends at the Natural Products Expo West tradeshow in Anaheim, California March 6-9, 2014.
Jon and Pat Gage, and son Jason Sherwood (41), along with nephew, Jeremy Fitzpatrick (36), will be on board at the Expo to share their fresh salt-free blends with a new generation of health-conscious consumers.
The Gage's are pioneers in the natural salt-free market, with their former company, Parsley Patch Salt-free Seasoning Blends. The Gage's sold their company to McCormick, after a decade of building the brand in hopes of making their salt-free spices blends a house-hold name.
After years of watching their favorite blends fade into oblivion, the Gages decided to bring back their secret recipes to a new generation of consumers. Ironically, the Gages are finding that many people have been asking for their seasonings over the intervening years. Some fans have confessed that they actually froze bottles of their favorite blends to keep them longer.
Now that the treasured recipes are available again under Engage Organics Salt-free Seasoning Blends brand, the Gages are thrilled to renew relationships with their favorite stores that turned their products into cult favorites.
Engage Organics Salt-free Seasoning Blends come in 9 varieties. Look for the Original All-Purpose with and without sesame seeds. Of course, the famous Garlicsaltless Blend makes the best garlic bread on the planet; while Tuscany-Mix puts zip into anything pasta. The Mexi-Mix is a sure bet for replacing those high sodium taco seasoning packets with real flavor instead of salt. And if you want a Starbuck's treat in your cup of java at home, try Sweet-Cinn and gain the cholesterol lowering benefits of cinnamon in a stir. Engage Organics Lemon Pepper is completely void of sugar and salt, which are the main ingredients in most Lemon Peppers. Engage Organics Lemon Pepper has pucker power and is flying off the shelves. Don't miss It's-A-Dilly, a cult favorite for salmon and beyond. And lastly, the new Go-Grill-A-Rub turns barbecue into bliss.
If you would like more information about Engage Organics Salt-free Seasoning Blends, go to http://www.engageorganics.com.
Contact: Pat Gage
http://www.engageorganics.com
707-387-0705