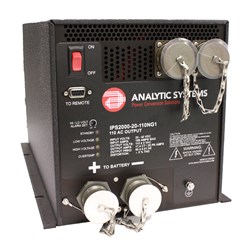 Delta, BC, Canada (PRWEB) January 15, 2014
FOR IMMEDIATE RELEASE
Analytic Systems Wins Contract for Canada's Tactical Armoured Patrol Vehicle Program
Analytic Systems has received a contract to supply its high performance customized DC/AC Inverters (2000 Watt) which will power equipment on the Canadian Forces' new Tactical Armoured Patrol Vehicle (TAPV). Textron Marine & Land Systems, a Textron Systems operating unit, has been working with Analytic Systems since March 2011 to provide inverters for this high profile project, due to their high reliability and rugged designs. More than 3000 inverters in the company's Puresine Series have been in used in-theatre in Iraq and Afghanistan since 2005 with a less than 0.1% return / repair rate. This substantial order and orders from AAI Unmanned Aircraft Systems (another operating unit of Textron Systems) will make Textron Systems one of Analytic Systems' largest customers.
Textron Systems Canada was awarded the Canadian Forces (TAPV) contract by the Canadian government in 2012. The contract provides that the Textron TAPV Team, led by Textron Systems Canada, together with Textron Marine & Land Systems and other team members, will manufacture 500 vehicles, with an option for up to 100 more. Full-rate production is expected to begin later in the year.
Ottawa-based Textron Systems Canada, as prime contractor, provides overall TAPV program and configuration management, acts as design authority for change management, coordinates vehicle integration activities by Canadian subcontractors, manages the In-Service Support contract, and implements the Industrial and Regional Benefits program.
Analytic Systems, http://www.analyticsystems.com, is proud to be a partner with Textron Systems in this high profile DND project designed to save Canadian Warfighter's lives. Analytic Systems is committed to innovative and cutting edge technology in the design and development of Military DC/DC Converters, Inverters, Battery Chargers and Power Supplies. Clients include: Textron Systems, Northrop Grumman, Oshkosh, AAI Unmanned Aircraft Systems, US Marines, Lockheed Martin, Raytheon, UEC Electronics, Teleflex Canada, US Navy, BAE, Navistar, US Army, Boeing Corp, Force Protection Ind, US Marines, and GDLS.
For further information, contact:
Bill Walker, Vice President, Sales and Marketing
(billw(at)analyticsystems(dot)com)
1-800-668-3884
Photos available if required.