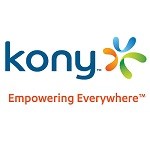 Kony's presence at CIOsynergy D.C. will provide event attendees with an additional layer of industry insights and thought leadership...Patrick Mason - Dir. of Comm. & Marketing | CIOsynergy
Hoffman Estates, IL (PRWEB) January 21, 2014
CIOsynergy, a provider of thought leading conferences, today announced that Kony Inc. will be a key sponsor at its event on January 24, 2013, at the Park Hyatt Washington, D.C.
Kony provides a cloud-based mobile and multi-channel experience platform that simplifies development, integration, deployment and management of applications for any delivery channel from a single codebase. Many of the Fortune 500 organizations deploy Kony's pre-built business applications to speed time to market, reduce cost of development, and greatly assist with future-proofing mobile deployments across a variety of industries.
"We are thrilled to have Kony as key sponsor of our CIOsynergy Washington event. As a leading provider in the Mobile Application Developments Platforms space, their presence will provide event attendees with an additional layer of industry insights and thought leadership," says Patrick Mason, Director of Communications and Marketing at CIOsynergy.
CIOsynergy Washington is an exclusive opportunity for leading local CIOs and IT executives to network and brainstorm daily hurdles in an unparalleled learning environment under the umbrella of John Sculley. Mr. Sculley is one of America's best known business leaders, with one foot in the storied history of Apple technology and the other planted firmly in 21st century innovations that change the way the world does business. Few entrepreneurs have been as successful across so many fields as Sculley. His success stories include telecommunications, financial services, healthcare, high technology, internet Services, consumer marketing and IT supply chain.
John Sculley was Pepsi-Cola's youngest CEO leading the firm through its high growth years with hugely successful experience marketing innovations "Pepsi Challenge" to become the largest selling consumer packaged goods in America. In 1982 Steve Jobs was building the first Macintosh computer and Steve believed the gutter of computing would be shaped by ease-of-use and he recruited John Sculley to Apple as CEO to teach Apple how to do big brand experience marketing. The Macintosh introductory TV commercial at the 1984 Super Bowl became the most famous advertising campaign of all time.
At CIOsynergy Washington D.C. a panel of leading CIOs moderated by Scott Shuster, will share and explore how CIOs can be successful in their role. Mr. Shuster has led virtually every Business Week CEO, CFO, and CIO conference held since the founding of the magazine's events group more than 100 of the world's most prominent gathering of large company leaders and senior executives.
Open to Fortune 500's and mid-market enterprise, CIOsynergy's events gathers senior executives from the office of the CIO, including Directors, VPs, Chief Architects, CTOs and CIOs.
For more information about or to participate in CIOsynergy Washington D.C. visit: http://CIODC.com, or contact Araceli Delgado, Project Coordinator at aracelid (at) ciosynergy (dot) com or 1.847.278.2213 ext. 899.
About CIOsynergy
CIOsynergy provides a platform that brings together the thought leaders of IT through events that incorporate face-to-face meeting opportunities, panel discussions, think tanks and keynotes, and C-suite networking programs.
Previous events have attracted C-suite leaders from companies such as Wal-Mart, Salesforce, Home Depot, Bank of America, Forbes Media, Wells Fargo, Shell, Allstate, State Farm, Career Education Corp, Pepsi, Sara Lee, Kraft, BP, Loyola University, Kaiser Permanente, Mayo Clinic, and Walgreens.
The company operations nationwide and has previously partnered with sponsors such as IBM, 3com, VMware, Unisys, Hitachi, Oracle, SunGard, Dell, Google, Amazon, and HTC among 100's more.
About Kony
Kony is the fastest growing cloud-based mobile application development platform (MADP) in the industry with over 600 live multi-channel apps, serving over 20 million end users across 45 countries. The Kony Experience Platform is an integrated software development lifecycle (SDLC) platform to define, design, develop, test, deploy, and manage multi-channel applications from a single code base. With Kony, you can deliver stunning user-first experiences, get to market faster, and lower your application TCO. Kony also offers a suite of ready-to-run B2E and B2C apps that enable customers to quickly extend their business.
In 2013 Kony was named a "Leader" in the Gartner Magic Quadrant for Mobile Application Development Platforms (MADP). For more information, please visit http://www.kony.com. Connect with Kony on Twitter, Facebook, and LinkedIn.