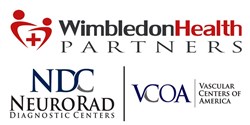 EMGs are the gold standard in diagnostics and exactly the type of testing that insurance companies have been wanting for their patients.
Boca Raton, Florida (PRWEB) January 13, 2014
Wimbledon Health Partners, a leading on-site diagnostic testing company providing physicians' vascular, echocardiogram and NCV testing announced expanded services in New York state. As of February 1st, Wimbledon Health Partners will now be offering needle EMGs in coordination with the existing NCV testing.
Electromyography (EMG) is a diagnostic procedure conducted by a licensed physician that is used to assess the health of muscles and the nerve cells that control them. Motor neurons transmit electrical signals that cause muscles to contract. An EMG translates these signals into graphs, sounds or numerical values that a specialist interprets. An EMG uses tiny devices called electrodes to transmit or detect electrical signals. During a needle EMG, a needle electrode inserted directly into a muscle records the electrical activity in that muscle.
EMG results can reveal nerve dysfunction, muscle dysfunction or problems with nerve-to-muscle signal transmission. A doctor may order an EMG if you have signs or symptoms that may indicate a nerve or muscle disorder. Such symptoms may include:

Tingling
Numbness
Muscle weakness
Muscle pain or cramping
EMG results are often necessary to help diagnose or rule out a number of conditions such as:

Muscle disorders, such as muscular dystrophy or polymyositis
Diseases affecting the connection between the nerve and the muscle, such as myasthenia gravis
Disorders of nerves outside the spinal cord (peripheral nerves), such as carpal tunnel syndrome or peripheral neuropathies
Disorders that affect the motor neurons in the brain or spinal cord, such as amyotrophic lateral sclerosis or polio
Disorders that affect the nerve root, such as a herniated disk in the spine
Wimbledon Health Partners Director of Marketing, Meredith Troy commented on the expansion of services from a marketing perspective, "Wimbledon Health Partners is moving at lightning speed to deliver on our mission to provide the most complete and comprehensive diagnostics available to physicians nationwide. EMGs are the gold standard in diagnostics and exactly the type of testing that insurance companies have been wanting for their patients. Our recent addition of needle EMGs in New York is but a first step to offering this very important diagnostic procedure in other states in the coming future."
About Wimbledon Health Partners:
Wimbledon Health Partners has been formed in response to the demand to attain on-site diagnostic testing capabilities for circulatory conditions that can be detected through the use of vascular ultrasound. Furthering our capabilities, nerve conduction velocity testing (NCV) is also utilized to support diagnosis of nerve involvement and manage risk. Wimbledon Health Partners is an innovative cooperative marketing and practice-enhancement program that provides physicians with the educational, compliance, and marketing tools necessary to provide quality, state-of-the-art, in-office testing procedures. For more information go to dxtesting.com or 855-200-VCOA (8262).