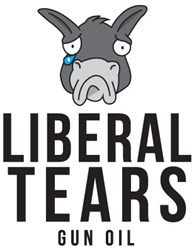 Guns have two enemies; rust and Liberals. Liberal Tears Gun Oil protects against both.
Saint Charles, MO (PRWEB) January 14, 2014
It has been known for quite some time now that guns have two enemies: rust and Liberals. Liberal Tears Gun Oil protects against both. Unlike most gun oils, Liberal Tears is a completely organic, cleaner lubricant protectant (CLP) that you will not find anywhere else on the market. In short, it is simply the best gun lubricant around.
In an effort to create the greatest gun lube known to man, Danger Close Weapons Marketing Group used the unique, organic qualities of Liberal Tears to deliver a gun oil that allows the shots of freedom to fire from the guns of firearm enthusiasts everywhere. This gun oil will pick up all the dirt, debris, opinions, and other unwanted crap that builds up on your gun over time. Additionally, Liberal Tears Gun Oil gives the gun owner the distinct pleasure of answering to anyone who may ask the question, "What do you use to lube up your gun?" with a satisfying, "Liberal Tears."
You can use Liberal Tears to lube up your AR-15, AK-47, any other rifle, any pistol, and many other types of firearms that Liberals disapprove of. Liberal Tears' Heat Seeking Molecule (HSM) technology forges into the substrate of the firearm and fills any gaps where friction may exist. Heat does not cause it to burn up and it will literally bake into the surface to produce a hard, slick film coating. This results in a Liberal-whine-proof surface that is resistant to high heat and high pressure situations.
Danger Close Weapons Marketing Group is a marketing group that was developed by Anchor Communications to better serve the marketing needs of gun and weapons manufacturers everywhere. The combination of over 20 years of marketing savvy from Anchor Communications, and the passion and experience CEO TJ Kirgin has for firearms and weaponry, makes Danger Close an unbelievably effective and powerful marketing tool for gun and weapons brands.