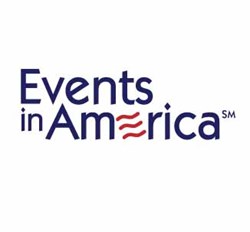 EventsInAmerica.com is superior to other event directories because it compiles into one site more of the event information that users want.
St. Louis, MO (PRWEB) January 15, 2014
EventsInAmerica.com, the online directory of tradeshows, conferences, meetings and conventions in the USA and Canada, has changed its membership policy and now offers free data on upcoming events.
"We eliminated the membership fee required to access most of the data on EventsInAmerica.com (EIA)," says Mark Travers, President of Events In America Inc., the company that publishes EventsInAmerica.com. "As a result, more people are streaming to our site, looking at more event records per visit, and spending more time on each individual record."
EventsInAmerica.com (EIA) provides data on thousands of upcoming events – segmented into 14 major industry categories and 150 specialty subcategories. It's an extremely handy site for quickly finding important trade show and conference information. Each event record contains:

Event Description
Locations, Addresses and Hours
Audience Demographics
Attendance Figures
Links to Websites and Important Documents
Exhibit Area Square Footage
Booth Costs and much more.
EIA provides benefits to all in the events industry.
For Event Owners, Show Manager and Event Planners, there's the additional visibility that EIA offers. "Show managers can use this new change to their advantage," says Travers. "They can add their events to EIA at no cost – and that will absolutely generate more visibility and potentially attract more paying attendees and exhibitors to their events."
For Exhibitors, Industry Suppliers and Venue Operators, there's less time needed to research events and more data in one source. "Users can search by keyword, event name, industry or other criteria," says Travers. "It's fast, easy to use and comprehensive. There's no need to use a general search engine to find event data. And EIA is superior to other event directories because it compiles into one site more of the event information that users want. "
EIA accepts events for this year and all future years. "If you already have dates for 2015, 2016 and beyond," says Travers, "add them. That extra exposure will pay dividends in earlier and faster bookings for attendees and exhibitors." To add an event, visit: http://www.eventsinamerica.com/add-event-page.html.
While the vast majority of its data is now available without the membership, EIA still charges a $199 membership fee if the user wants to access contact names and email addresses, or download full event records.