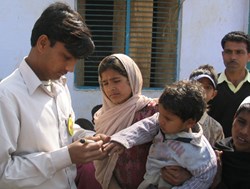 This ground-up, community-based approach to disease education and prevention is not only groundbreaking, it is effective.
San Diego, CA (PRWEB) January 13, 2014
In the wake of today's historic announcement that India has been declared polio-free by the World Health Organization (WHO), PCI (Project Concern International) celebrates the global partnerships and international resolve to rid the country of a debilitating and often deadly disease.
As a lead partner of the CORE Group Polio Project, PCI has made significant contributions to worldwide efforts to eradicate polio in India – particularly in the state of Uttar Pradesh, where the organization is building enhanced community awareness and mobilization to increase participation in prevention and immunization interventions in three high-prevalence districts.
PCI recruits and trains community mobilization coordinators, assists in organizing and facilitating health camps where vaccines are provided by the Government of India as well as promotes hygienic practices to reduce new infections, especially in children under 5 years of age.
"This ground-up, community-based approach to disease education and prevention is not only groundbreaking, it is effective," said PCI President and CEO George Guimaraes. "PCI has focused its efforts on working within the community using a unique mobilization approach to increase involvement and awareness of polio and vaccines."
Involving members of at-risk communities in efforts to prevent the spread of infectious diseases is crucial to building a strong foundation of knowledge and tradition to ensure that programs like PCI's continue to increase vaccine coverage and decrease the presence of diseases like polio in the international communities most in need. The success in Uttar Pradesh is a great victory and a significant step towards global polio eradication.
To learn more about PCI's disease prevention efforts in India or to arrange an interview, please contact Bonnie Maratea at (858) 279-9690 x326 or bmaratea(at)pciglobal(dot)org.
##########################
PCI (Project Concern International) is an international health, development and humanitarian assistance organization, operating in 16 countries worldwide. PCI is dedicated to saving lives and building healthy communities around the globe, benefitting over 6.3 million people annually in Asia, Africa and the Americas. Funded by federal grants and private support, PCI celebrated its 50th anniversary in 2011. PCI's headquarters are located in San Diego, CA and the organization also has an office in Washington, DC and a Seattle, WA representative. PCI's current annual budget is nearly $50 million and the organization has over 600 employees worldwide.