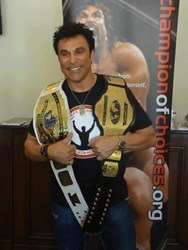 GJ Reynolds CEO of Simply G Media said, Marc knows the importance of being authentic with children.' Kids will not learn unless you truly care for them."
Pittsburgh, PA (PRWEB) January 17, 2014
Neil Haley, The Total Tutor host of the Total Education Celebrity Show, interviewed Marc Mero find out about his anti bullying campaign, and why he decided to talk on this venture.
Former WCW and WWE Wrestling Champion Retired professional wrestler Marc Mero achieved fame as a WCW and WWE Wrestling Champion. But following a series of personal tragedies including the death of more than 30 friends and family members - mostly due to lifestyle choices and negative behaviors - God took Marc from tragedy to triumph. He now dedicates his life to sharing his story worldwide in order to inspire others to make positive choices and find true happiness through Jesus Christ.
During the interview, Marc Mero shared how concerned he was about bullying. "We are losing are next generation if more is not done in schools around the country to stop bullying." Marc continued by saying, "Bullying leads to isolation, loneliness, burning, cutting, and suicide." Third leading cause of death is bullying." I want to make a difference and save as many students as I can." Marc said.
Marc wants to share his story at the events. "We have the top anti bullying campaign in the industry." "I have a purpose for a living."
When You truly find your passion and have a purpose for your life, you then can transform peoples lives." Haley said.
Marc shared how he runs his events. "I have entertainment background." "I have to entertain students, by touching a students heart and saving their life.
In addition, Marc discussed how he has been to so many funerals because students that took their life due to bullying.
Marc wants kids to open up and talk to others. Marc does a night presentation with the parents. Marc said, to let your kids know how much they love them."
I found my passion, so never have to work by doing this campaign."
"The parent is the key to the child." It does not matter who is the White House, it is the parent who is their house."
GJ Reynolds CEO of Simply G Media said, Marc knows the importance of being authentic with children.' Kids will not learn unless you truly care for them."
You can find out more information on Marc by clicking here. You can listen to the radio interview by clicking listen here.