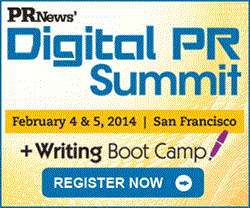 Rockville, MD (PRWEB) January 14, 2014
Join PR News on February 4-5 for its annual Writing Boot Camp and Digital PR Summit in San Francisco, California. The early bird rates end tomorrow, January 15 for these two must-attend events for communications professionals. One- and two-day packages are available.
Writing Boot Camp attendees will walk away with how-to's from expert trainers in crafting email pitches that stand a chance of getting opened by journalists, writing content for mobile devices and social media, applying storytelling concepts to PR writing and much more. The interactive Digital PR Summit on February 5 will give attendees the digital communications edge and new skills needed to remain a communications leader in the years to come. Both events will take place at The Westin Market Street in San Francisco, CA.
Kraig Kann of the Ladies Professional Golf Association (LPGA) will keynote the Writing Boot Camp. Kann, who spent 25 years in front of the camera, started a media consulting business and now serves as chief communications officer for the LPGA, will speak on how to put native communications talent to work. Jake Katz, vice president of audience insights & strategy at Revolt, will deliver the keynote for the Digital PR Summit on February 5. Katz is a key player who's at the forefront of the Millennial conversation, and serves as Revolt's touchstone to the brand's audience for both internal creatives and external partners. In his keynote address, he will give attendees the lowdown on the Millennial demographic.
The discounted rates for both events end tomorrow, January 15. Register online at http://www.digitalprsummit.com.
Joining Kann and Katz at the full-day events are leading PR practitioners from the San Francisco 49ers, NASA, Twitter, Dell, Boeing Commercial Airplanes, Motorola Solutions, Hotels.com, Carmichael Lynch Spong, Wells Fargo and more who will share the latest best practices on writing and digital communications.
The discounted rate for PR News' Writing Boot Camp and Digital PR Summit expires tomorrow, January 15. Register online at http://www.digitalprsummit.com
For questions regarding the conference, contact PR News' Senior Marketing Manager Laura Snitkovskiy at laura(at)accessintel(dot)com. For sponsorship and exhibit information, contact PR News Senior Vice President & Group Publisher Diane Schwartz at dschwartz(at)accessintel(dot)com.
About PR News:
PR News is a daily intellectual hub that serves the communications and marketing community at corporations, agencies and nonprofits. The PR News group focuses on honing and growing PR practitioners' skills in social media, crisis management, digital PR, measurement, employee relations, media training, CSR and writing through its flagship newsletter, webinars, conferences, awards programs, workshops and guidebooks. With the launch of its weekly newsletter over 70 years ago, PR News has remained dedicated to supporting the growth of communicators all while keeping them abreast of the latest news affecting the industry. For more information, please visit http://www.prnewsonline.com.