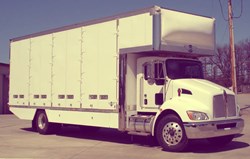 Los Angeles, CA (PRWEB) January 14, 2014
24-7 Van Lines – a premier moving service located in Southern California that specializes in local, interstate and cross country moves with a specific focus on customer service, reliability and quality – is pleased to announce that their new packing and shipping practices and standards manual for employees for moving vans cross country is in place to ensure that greatest efficacy with personal possessions for its trusted customers. The newer packaging requirements mandated by 24-7 Van Lines for its technicians cover a wide array of practices and standards designed to limit and ultimately prevent any personal items of its customers from sustaining damage during long distance moves.
"Our first rule of thumb with our standards and practices manual for safe moving practices with moving vans cross country is that we only hire full-time staff members that are dedicated to their jobs," explains Mark Tanning, spokesperson for 24-7 Van Lines. "This ensures that we are only using reputable, vigorously prescreened workers who only work for us—and who are diligently trained with our signature methods of safe packing, labeling, tracking and transportation."
24-7 Van Lines has a comprehensive manual of practices and standards for packing for moving vans cross country that underscores their strong commitment to the customer. A few tenants include:
Technicians are trained to properly disassemble and assemble large furnishings; how to safely handle the transportation of valuable and luxury items; and how to package each box with the proper materials to ensure safe transport.
Packing methods also include using proper blocking and bracing methods to ensure the greatest amount of resistance to pressure during transit.
Only the most premium packaging supplies are used, including: state-of-the-art tools, blankets, double-wall boxes that are acid and bleach-free, extra thick packaging tape, tie-downs and more.
Technicians undergo rigorous training methods and ongoing updates and cycles to conform to any new mandates in the employee training manual, and to practice moving high-end items for clients.
"We understand the concern that a person can harbor in feeling uncertain about the integrity of their items during transit," Tanning says. "To provide that greatest peace-of-mind, we've take the liberty of creating the industry's most comprehensive training manual for our technicians, something that other moving services assuredly will want to borrow a page [or two] from."
Press Contact:
Mark Tanning
24-7 Van Lines
(323) 920-0048