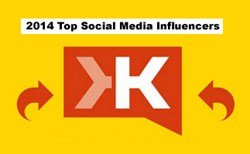 Organizing Klout users into lists can help you compare people within a topic or industry.
Issaquah, WA (PRWEB) January 14, 2014
How about being able to connect with the best marketers on social media? That is exactly what author and entrepreneur Susan Gilbert has made possible by creating a Klout list, entitled Klout Aces. The list includes professionals from around the globe that actively engage on networks like Twitter and Facebook about their area of expertise – social media.
"Lists are a great way to help keep you organized," says Gilbert. "Klout is a good place to start because this helps you interact with your network better, and create more contacts." Gilbert adds that lists in social media are also a good way to analyze your own social network performance.
Included in the Klout Aces article, Susan gives step-by-step instructions on how to create a list on Klout which can be done for any industry or topic. "Organizing Klout users into lists can help you compare people within a topic or industry, as well as analyze the Klout scores of existing groups of people," says Gilbert. It also provides a guide for connecting with highly influential people and spread your reach. In order to build a loyal following, remember to have an 'attitude of gratitude' and make your list a place to honor those in that industry.
According to marketer, John Gregory Olson, in a recent article on his blog, Go Digital, "People want to follow those they know and who know them," Olson writes. "Your ability to develop, cultivate and conduct relationships is more important to followers than your professional knowledge or skills. Mutual familiarity builds a relationship that enables influence with followers."
Susan Gilbert is an Issaquah, WA-based entrepreneur who specializes in website development, social media and marketing done-for-you services. Since 1987, Susan Gilbert has been a leading expert for online marketing and began to implement social media sites like Twitter and Facebook while they were in their beginning stages. She is recommended by bestselling author Glenn Plaskin and by clients including author and Inner Sports founder, Garret Kramer, Diane O'Connell, founder and editorial director of Write to Sell Your Book, and Michele Rosenthal, author of Before the World Intruded. Susan Gilbert provides evaluation of websites along with VIP coaching for entrepreneurs and businesses. Her Kindle book, KLOUT SCORE: Social Media Influence, was released in June, 2013.
For more information on Susan Gilbert and for a consultation, please contact Susan Gilbert at 425-200-5590. Also visit her personal blog at susangilbert.com for more information.