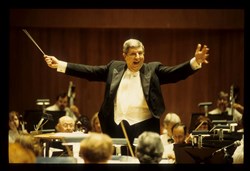 Baltimore, Md. (PRWEB) January 13, 2014
Baltimore Symphony Orchestra (BSO) Principal Pops Conductor Jack Everly will lead the Orchestra in a special tribute concert to its former pops conductor, the late Marvin Hamlisch, on Thursday, January 23 at 8 p.m. at the Music Center at Strathmore and on Friday, January 24 and Saturday, January 25 at 8 p.m. and Sunday, January 26 at 3 p.m. at the Joseph Meyerhoff Symphony Hall. Featuring lead singer Marissa McGowan, the BSO will perform some of Hamlisch's best-known works, including "They're Playing Our Song," "The Way We Were" and "What I Did For Love" from A Chorus Line.
Marvin Hamlisch is well-known for his countless accomplishments as a composer, conductor and musician. As one of only 11 entertainers in the world to win all four major American performing awards, the Emmy, Grammy, Oscar and Tony, his contributions to the television, film, theater and music industries are endless. Since his death in 2012, his life and work have been memorialized by Barbra Streisand in a performance of "The Way We Were" at the 2013 Academy Awards, and in PBS's December 2013 documentary, What He Did For Love. Terre Hamlisch will be present for the tribute to her late husband. Please see below for complete program details.
Jack Everly, conductor
Jack Everly is the Principal Pops Conductor of the Baltimore and Indianapolis Symphony Orchestras, Naples Philharmonic Orchestra and National Arts Centre Orchestra (Ottawa), and the Music Director of the National Memorial Day Concert and A Capitol Fourth on PBS. He has been on stage with the Los Angeles Philharmonic at the Hollywood Bowl, The New York Pops at Carnegie Hall and appears regularly with The Cleveland Orchestra at Blossom Music Center. His frequent guest conducting engagements includes the orchestras of Pittsburgh, Ft. Worth, Edmonton, Oklahoma City and Toronto.
Originally appointed by Mikhail Baryshnikov, Mr. Everly was conductor of the American Ballet Theatre for 14 years, where he served as Music Director. In addition to his ABT tenure, he has teamed with Marvin Hamlisch in Broadway shows that Mr. Hamlisch scored including, The Goodbye Girl, They're Playing Our Song, and A Chorus Line. He conducted Carol Channing hundreds of times in Hello, Dolly! in two separate Broadway productions.
Mr. Everly has conducted the songs for Disney's animated classic, The Hunchback of Notre Dame, and led the Czech Philharmonic on the CDs: In the Presence, featuring Daniel Rodriguez and Sandi Patty's 2011 Broadway Stories. He also conducted the critically praised Everything's Coming Up Roses: The Complete Overtures of Broadway's Jule Styne, and was music director for numerous Broadway cast recordings.
In 1998, Jack Everly created the Symphonic Pops Consortium serving as Music Director. The Consortium, based in Indianapolis, produces new theatrical pops programs, and in the past twelve years more than 235 performances of SPC programs have taken place across the U.S. and Canada.
When not on the podium or arranging, Maestro Everly indulges in his love for films, Häagen-Dazs, and a pooch named Max.
Marissa McGowan, vocalist
Marissa McGowan had the honor to be chosen by Marvin Hamlisch to star as Stella Purdy in the world premiere of his last musical The Nutty Professor (directed by the legendary Jerry Lewis), for which she won the Best Leading Actress award in Nashville for her performance. Ms. McGowan has appeared on Broadway in the A Little Night Music revival alongside Catherine Zeta-Jones and Angela Lansbury (Original Cast Recording), Bonnie and Clyde (Original Cast Recording) and Les Misérables (Revival and National Tour), where she performed both the roles of Eponine and Cosette. Favorite regional roles include Magnolia in Show Boat at the Asolo Repertory Theatre, Maria in The Sound of Music with the Lyric Theatre, Guinevere in Camelot and Mary Jane in Big River at the Goodspeed Opera House, Bianca in Kiss Me Kate and Philia in A Funny Thing Happened on the Way to the Forum at the Weston Playhouse and Johanna in Sweeny Todd at the Geva Theater. Television: Major Crimes (TNT). Concert work includes Lincoln Center (tribute to Marvin Hamlisch directed by Mike Nichols), guest soloist with the Annapolis Chorale, Alpine Theatre Project and the American Cancer Society Marvin Hamlisch tribute at the Hudson Theater.
Ms. McGowan grew up on Long Island and attended Syracuse University, where she received a bachelor's of fine arts in musical theater. http://www.marissamcgowan.com
About Marvin Hamlisch
As composer, Marvin Hamlisch (June 2, 1944-August 6, 2012) won virtually every major award that exists: three Oscars, four Grammys, four Emmys, a Tony and three Golden Globe awards.
For Broadway, he wrote the music for his groundbreaking show A Chorus Line, which received the Pulitzer Prize as well as They're Playing Our Song, The Goodbye Girl and Sweet Smell of Success. He also wrote the musical scores for: Jean Seberg (1983 National Theatre, London) and Nutty Professor Musical (2012 TPAC, Nashville).
He was the composer of more than 40 motion picture scores, including his Oscar-winning score and song for The Way We Were and his adaptation of Scott Joplin's music for The Sting, for which he received a third Oscar. His prolific output of scores for films include original compositions and/or musical adaptations for Sophie's Choice, Ordinary People, The Swimmer, Three Men and a Baby, Ice Castles, Take the Money and Run, Bananas, Save the Tiger and The Informant!, starring Matt Damon and directed by Steven Soderbergh.
At the time of his passing, he had just finished his last musical score for film. The film is about Liberace, starring Michael Douglas and Matt Damon and directed by Steven Soderbergh. The film: Liberace: Behind the Candelabra was shown at the 2013 Cannes Festival and aired on HBO in May 2013 to great reviews.
Mr. Hamlisch was musical director and arranger of Barbra Streisand's 1994 concert tour of the U.S. and England as well as of the television special, Barbra Streisand: The Concert (for which he received two Emmys).
Marvin Hamlisch held the position of principal pops conductor for the Baltimore Symphony Orchestra, Pittsburgh Symphony Orchestra, Milwaukee Symphony Orchestra, Dallas Symphony Orchestra, Pasadena Symphony and Pops, Seattle Symphony, San Diego Symphony, The Buffalo Philharmonic and The National Symphony Orchestra in Washington, D.C. At the time of his death, he was preparing to assume responsibilities as principal pops conductor for The Philadelphia Orchestra.
Hamlisch was a graduate of The Juilliard School of Music and Queens College, where he earned a Bachelor of Arts degree. He believed in the power of music to bring people together.
COMPLETE PROGRAM DETAILS
Marvin Hamlisch: One Singular Sensation
Thursday, January 23, 2014 at 8 p.m. – The Music Center at Strathmore
Friday, January 24, 2014 at 8 p.m. – Joseph Meyerhoff Symphony Hall (JMSH)
Saturday, January 25, 2014 at 8 p.m. – JMSH
Sunday, January 26, 2014 at 3 p.m. – JMSH
Jack Everly, conductor
Marissa McGowan, vocalist (lead)
Felicia Curry, female vocalist
Kate Fisher, female vocalist
Shawn Doyle, male vocalist
Nick Houhoulis, male vocalist
Andre McRae, male vocalist
John Moses, boy soprano
Shreya Rangarajan, girl soprano
Elissa Destafano, girl soprano
Alyk Moomaw, girl soprano
Eva Hill, girl soprano
Tickets range from $29 to $94 and are available through the BSO Ticket Office, 410.783.8000 or BSOmusic.org.
###