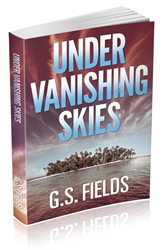 "Science Fiction Just the Way I Like It" - Jeff McIntire-Strasburg, Author and Blogger at www.sustainablog.org
San Luis Obispo, California (PRWEB) January 22, 2014
The holidays are over, but readers continue to celebrate with the release of "Under Vanishing Skies" by G.S. Fields. Quickly climbing the charts, this book offers action, drama, science and a hint of romance in a heart-stopping tale of humanity at its best and worst in a world poised on the edge of destruction.
Now available at Amazon and Barnes & Noble, "Under Vanishing Skies" skyrocketed to Amazon's Top 100 Best Sellers list during its initial launch and it held the #1 spot for Dystopian and Post-Apocalyptic fiction for more than a week. Kirkus Reviews reported that "Under Vanishing Skies" is a "startling sci-fi examination of humanity's capacity for cruelty in a remarkable dystopian setting."
G.S. Fields is a seasoned professional who traveled extensively during his 23 years in the United States Air Force and it's reflected in this riveting tale.
"When I joined the Air Force, my recruiter told me that I was in for an adventure of a lifetime. I wasn't disappointed," Fields said. "Not only did I get the opportunity to serve my country during a time of war, but I was fortunate enough to travel all over the world and live in some pretty incredible places. Writing affords me the opportunity to share some of those experiences with others. So I am both thrilled and humbled by the overwhelmingly positive response that the book received during its launch."
In this new page-turner, protagonist Aron Atherton is trapped in the Maldives after a massive solar storm kills his family and nearly wipes out the human race. He plans to fish and drink his way through the apocalypse, but – like the skies above him – Aron's plan vanishes when he uncovers a plot that threatens mankind's last hope for survival.
The 214-page book is available as an eBook and a paperback. Fields also offers an audio excerpt on his website at http://gregoryfields.com/.
About the Author
G.S. Fields is a graduate of the University of Akron with a degree in Computer Science and the Air Force Institute of Technology with a master's in Information Resource Management. Fields served in the U.S. Air Force for more than 23 years before retiring to San Luis Obispo County, California.