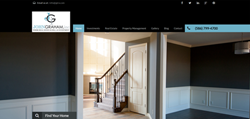 The Southeast MI real estate market is pegged to be one of the most exciting for 2014 as local and global entrepreneurs start seeing their innovations, startups and Detroit revitalization efforts pay off. (G-code magazine)
Greater Detroit Area, MI (PRWEB) January 14, 2014
John Graham Inc. is a customer-centric real estate company that strives to maximize service for clients. The company has always focused on better ways to do business with clients and finding new ways to improve customer satisfaction. The newly designed website will offer viewers a guide into John Graham Inc., featuring high definition photographs, interactive blogs with the latest hot topics and trends in the world of real estate, and access directly to the MLS for conducting property searches. The website will provide direct links to the company's social media sites so customers can connect with John Graham Inc. via Facebook,Twitter, Pinterest, YouTube, LinkedIn, and Google+.
The website offers insight on the investing process, traditional real estate availability, and Property Management. The latest homes that have been rehabilitated by John Graham Inc. will be featured so customers can view all active inventory. Customers will be able to read investment portfolios showcasing the average ROI (Return on Investment) for clients who invest with the company. The website is actively updated with the newest activities taking place at John Graham Inc. The Property Management section includes an online application for interested prospects so they can apply for homes instantly. Current tenants will be able to make rent payments online, providing them with the convenience of various payment options. The website contains information about homes such as average summer and winter taxes, and school districts within the area of homes. This new approach will increase web traffic at John Graham Inc., enhancing communication with clientele.
The company looks forward to an innovative and interactive approach in 2014, with a website that delivers more to its customers. Future features may include video tours of the available homes and live chat options so customers can speak directly with a representative. John Graham Inc.'s team is passionate about providing customers with the best real estate experience and continues to focus attention on building lasting relationships. The website will provide a bright and positive future for the company and its clients.
About John Graham, Inc.:
John Graham, Inc. is a Michigan based company that provides personalized consultative services to both buyers and sellers, creating investment strategies specifically suited to a client's needs. John Graham's single point of accountability promises convenience and complete satisfaction, and their expertise ensures the right results. John Graham is redefining real estate through innovation, integrity, and partnership. For more information, please call (586) 799-4700 or visit http://www.johngrahaminc.com.