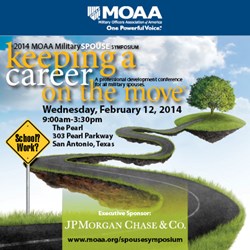 Alexandria, Va. (PRWEB) January 15, 2014
Military spouses, servicemembers and veterans are invited to attend the 2014 Military Spouse Symposium "Keeping a Career on the Move," hosted by the Military Officers Association of America (MOAA), Wednesday, Feb. 12, from 9 a.m. to 3:30 p.m., at the Pearl, 303 Pearl Parkway, San Antonio. Check-in opens at 8:15 a.m. with a complimentary breakfast.
This award-winning event, with executive sponsor JP Morgan Chase & Co. is free and open to all military spouses.
Military spouses looking for a job now or preparing for a future career can attend informative workshops and speak with experts and employers who can offer assistance. The opportunity for five minute résumé critiques and professional LinkedIn photo shoots will be available throughout the day. Learn more.
The symposium will kick off with the results of the inaugural Military Spouse Employment Survey co-sponsored by Syracuse University's Institute of Veterans and Military Families and MOAA.
Following the panel, the Mayor of San Antonio, Julián Castro, will address the audience.
A complimentary working lunch will be provided as keynote speaker, Jessica Herrin, CEO and founder of Stella & Dot, discusses life as an entrepreneur and working mother.
There will be two panels throughout the day. One will focus on military spouses and policies that affect their lifestyle. The second is titled, "Five Things Employers Want You to Know" with representatives from local and national companies and a representative from the Directorate of Airman and Family Care. Attendees will learn useful information on landing a job as a military spouse, and panelists will answer questions about résumés and the interview process.
Concurrent session workshops include:

Résumé Writing and LinkedIn Strategies for Military Spouses (presented by MOAA)
Education Options for the Mobile Military Spouse (presented by Texas A&M University –San Antonio)
Your 30-Second Commercial: How to Work a Networking Event or Career Fair (presented by MOAA)
Networking Tips and Strategies to Stand Out in the Crowd (presented by Kimberly Hessler, Air Force spouse and career consultant)
Dress for Success (presented by the Army & Air Force Exchange)
At the conclusion of the conference, Stella & Dot will be giving a special gift to everyone who attends.
To register and for more information about the symposium, visit http://www.moaa.org/spousesymposium.
# # #
About MOAA:
Military Officers Association of America (MOAA) is the nation's largest officers association with more than 380,000 members from every branch of service, including active duty, retired, National Guard, Reserve, and former officers and their families and survivors. MOAA is a nonprofit and politically nonpartisan organization and an influential force in promoting a strong national defense. MOAA represents the interests of service members and their families in every stage of their lives and careers, and for those who are not eligible to join MOAA, Voices for America's Troops is a nonprofit MOAA affiliate that supports a strong national defense. For more information, visit http://www.moaa.org or http://www.voicesfortroops.org/.
Members of the news media who wish to be added to our media distribution list for MOAA news releases, please contact requestnews(at)moaa(dot)org. Visit MOAA's Multimedia & Press Room at http://www.moaa.org/media/default.htm.