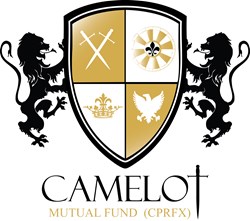 Toledo, OH (PRWEB) January 14, 2014
Camelot Portfolios, manager of the Camelot funds and provider of investment services to advisors, today announced the introduction of a new mutual fund. The Camelot Excalibur Small Cap Income Fund (CEXAX) is co-managed by portfolio managers, Jason Born and Darren Munn.
Drawing on the investment process behind its flagship Camelot Premium Return Fund (CPRFX), the new fund aims to seek out undervalued companies that pay a dividend yield above the average small capitalization company. This fund offers dividend oriented investors a compelling opportunity to employ the higher capital return potential of small cap investments.
The Camelot Excalibur Small Cap Income Fund focuses on global small cap securities that trade on U.S. exchanges and have the potential for dividend income, dividend growth, and price appreciation. The fund will further enhance the distribution available for investors through its use of option writing strategies, including covered calls and cash-secured puts.
The overall management philosophy is aimed at seeking investments that produce strong cash flow so that the overall portfolio will produce consistent and rising cash which we believe will result in solid long term total return with reduced volatility.
Camelot Portfolios hosts a monthly call to update investors about current market conditions and to discuss new opportunities for clients looking to generate income. The calls give advisors the opportunity to ask important questions and give investors direct access to the Fund decision makers. Those interested in participating in a monthly call can do so by visiting http://www.CamelotFunds.com and submitting an RSVP through their Monthly Intro Call tab.
Investments in mutual funds involve risks. Investment return and principal value will fluctuate with changing market conditions so that when redeemed, shares may be worth more or less than their original cost. The fund has non-diversification risk, as the funds are more vulnerable to events affecting a single issuer. Investments in lesser-known, small and medium capitalization companies may be more vulnerable than larger, more established organizations. There are risks associated with the sale and purchase of call and put options. The fund intends to write options on a significant portion of its portfolio. The options will generally have terms of three to six months resulting in proceeds being reinvested several times during the year. This can result in a higher level of portfolio turnover rate. There is no assurance that dividends will be paid.
Investors should carefully consider the investment objectives, risks, charges and expenses of the Camelot Premium Return Fund. This and other important information about the fund is contained in the prospectus, which can be obtained at http://www.camelotfunds.com or by calling 855-226-3863. The prospectus should be read carefully before investing. The Camelot Premium Return Fund and Camelot Small Cap Income Fund are distributed by Northern Lights Distributors, LLC member FINRA. 0088-NLD-1/8/2014.