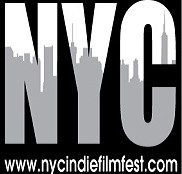 This year, plans are to show well over 100 films.
New York, NY (PRWEB) January 15, 2014
Filmmakers all over the world have now a new way to submit their films to the New York City Independent Film Festival: Festhome.com website. The festival is still accepting submissions through FilmFestivalLife.com and Whitoutabox.com as well. The dead line for filmmakers to send their films is May 31, 2014. From October 15th to 19th, this year's festival will include films in the following categories:

Feature-length
Documentaries
Shorts
Super-shorts
Music videos
Art videos (NEW)
During the five-day festival, films will be screened in the Producers Club, located in the heart of Manhattan's theater district. It makes a wonderful home for the international cinematic tradition of the festival, with its spacious theaters, intimate lounge, urban décor and artistic history.
This year, plans are to show well over 100 films. The 5th New York City Independent Film Festival will continue to uphold the tradition of promoting new and emerging voices in film, spoken word, music, and art. "Last year was by far the biggest and the best. And this year is going to be bigger," said Dennis Cieri Executive Director and Founder. "Also, a new Art Film section will be added. To submit to the new Art Section, filmmaker can use the super short film category." Beside movies, multiple panel discussions will be held on issues pertinent to today's filmmaker and viewing audience. The festivities will conclude with the presentation of the Fan Awards and Best of Festival Awards, which include awards in 9 categories.
Visit the website http://www.nycindieff.com to learn more about the festival as well as information about submissions, tickets, festival passes and past years selected films. Be sure to also follow the festival on Twitter @NYCIndieFF, and Facebook at Facebook.com/nycindieff.
__________________
5th Annual New York City Independent Film Festival
What: selection of over 100 independent movies spanning feature, documentary, short, super short, art videos and music videos.
When: October 15-19, 2014
Where: 358 West 44th Street New York, NY