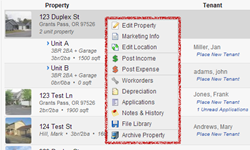 It is all about making the day to day chores of property managers and landlords easier.
Grants Pass, OR (PRWEB) January 14, 2014
Rentec Direct Property Management Software has published a new update which brings some substantial performance improvements to the property management application. While much of the work is in the background and goes unseen (except by the computer's CPU), there are several visual improvements of note:
Rentec has completely revamped the right-click menu, code has been installed throughout the application. This means pages load much faster. Internal testing shows that larger property lists and ledgers load 1500% faster now! This also opens up support for more convenient menu options in the future.
Rentec has also incorporated better mobile support. Most mobile browsers support a long-click press as an alternative to a right-click press on a desktop mouse. The new right-click menus now have wider mobile support, supporting most mobile platforms. Bringing up the menu on a phone or tablet is easy, while holding down on a desired row of data for about 2 seconds the menu will present itself.
Regardless which ledger or list being reviewed in the software, a left-click on any row in the properties, tenants, bank accounts, or any ledger, and the row will be highlighted and remain highlighted until the mouse is clicked somewhere else. This provided a dramatic performance improvement over the previous method which had the highlighting automatically follow your mouse. This save tool is great for leaving the computer for a minute, a phone call, or any other interruptions.
When asked why Rentec Direct puts so much effort into customer requests and improving there software? Nathan Miller, President of Rentec Direct replied, "It is all about making the day to day chores of property managers and landlords easier."
To learn more about Rentec Direct or to obtain a 30-day full featured free trial of the software, visit http://www.rentecdirect.com/.
About Rentec Direct
Rentec Direct provides cloud based rental software solutions for property managers and landlords. Other popular solutions offered by Rentec include tenant ACH payment processing, tenant screening, and online syndication of vacancies to more than twenty popular websites.