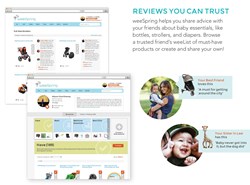 New York, NY (PRWEB) January 14, 2014
weeSpring, the #1 social review site for parents, celebrates its first year with a milestone announcement and a release of its newest feature: weeLists. In less than a year, the TechStars graduate has amassed over 75,000 reviews, more than that of the top baby retailers. And new reviews are coming in at 3x the rate of Amazon reviews for top baby products.
"We are thrilled by the growth we're seeing at weeSpring," says CEO and Co-Founder Allyson Downey. "We created weeSpring as new parents to fill a personal need, and our unparalleled user engagement indicates to us that we've struck a chord with parents in general. There truly is no other resource like this on the web."
Founded for parents by parents, weeSpring is proud to introduce a key new feature: weeLists. weeLists allow members to organize and share their must-haves by category for every age and stage, like "Newborn Necessities," "Starting Solids," and "Teething Time." One mom's favorite products become another mom's shopping list. Sharing lists among friends is a widespread habit with both new and experienced parents, and weeLists makes it simple, social, and fun.
The weeList feature builds on weeSpring's goal of being the essential resource for new and expecting parents navigating the booming world of baby shopping. By combining social reviews with smart, informative editorial content, weeSpring helps parents answer some of their toughest questions, like 'What do I need if my baby has a cold?' and 'How do I survive our first plane ride?'"
In addition to seeing friends' favorite products, weeSpring users looking for expert guidance can follow tastemakers known for their eye for quality, style, and design -- like Gilt co-founder Alexandra Wilkis Wilson, a longtime weeSpring fan.
"When I first discovered weeSpring, I knew parents would love it." says Alexandra Wilkis Wilson. As someone who appreciates searching out the best-of-the best, I love using weeSpring to discover and research the best products for my family."
About weeSpring
weeSpring, launched in January 2013, helps new and expecting parents collect advice from their friends about what they need for their baby. Their mission is to make product recommendations from your friends as accessible as Amazon reviews. Founded by parents, for parents, weeSpring is bridging the gap between social networks and e-commerce, making it easy for parents to find the products their friends love.