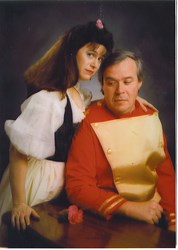 A riveting drama of love and jealous.
Warren, NJ (PRWEB) January 28, 2014
No man can resist Carmen's gypsy charms, but when she's ready to move on, watch out! A riveting drama of love and jealousy, filled with famously alluring melodies and captivating dances, Carmen is one of the world's most popular operas. With dazzling bursts of color, the thrilling production brings the sights and sounds of Seville to life, from the dusty town center to the clamor of the bullring. Bizet's immortal score overflows with one delight after another, a music lover's hit parade of opera's most intoxicating melodies.
Georges Bizet's compelling opera—teeming with dark passion and jealousy—opens Saturday, March, 22 at 8:00pm, at the Brook Theater, 10 Hamilton St in Bound Brook NJ. With additional performances March 23 and 30th at 3:00pm and Marcy 29th at 8:00pm.
The opera will be performed with a new English translation by Karole Lewis and follows the original Opera Comique containing spoken dialog. Lewis captures the true meaning that was intended by the librettist's Henri Meilhac and Ludovic Halévy.
Set in Seville around 1820, Carmen, a seductive, free-spirited factory worker sets her sights on the illusive and already betrothed soldier, Don José. After Carmen injures a fellow worker, Don José is ordered to keep her jailed, and soon succumbs to her charms and his ultimate downfall. Georges Bizet, born Alexandre-César-Léopold Bizet on Oct. 25, 1838, in Paris, France, is known for influencing the verismo school of opera, which became popular in the late 19th century. This innovative style utilized realistic characters who dealt with commonplace, everyday themes.
Bizet's "Carmen"—based on Prosper Mérimée's short story and having one of the world's most recognizable scores—was deemed to have subject matter too immoral for the stage at the time of its 1875 premiere. Bizet died in the same year, quelling the scandal and posthumously receiving great critical acclaim.
Carmen will be conducted by Artistic director Robert Butts of Rockaway NJ and stage directed by Karole Lewis of Warren NJ. Dr. Robert Butts, Eastern Opera's founding artistic director and principal conductor, is New Jersey's most wide-ranging conductor, exploring the operatic as well as the orchestral worlds, the earliest major works of the Baroque period through compositions of the twenty-first century. He is the only conductor to have conducted three Wagner Ring Operas (Die Walküre, Das Rheingold, Siegfried) in New Jersey. He is the only conductor to have led three Handel operas (Acis and Galatea, Semele, Giulio Cesare) in New Jersey.
Dr. Butts has conducted premieres of over a dozen works for large and small ensemble. With The Baroque Orchestra of New Jersey, he has edited and led modern day first performances of works by composers such as Franz Krommer and Ditters von Dittersdorf. In 2008, Dr. Butts edited Alessandro Scarlatti's 1693 oratorio La Giuditta, from a manuscript discovered in the archives of the National Park Service, Morristown, New Jersey.
The scenic design for "Carmen" is by Summit resident, Carlos Ospina with lavish costumes designed by General Director Karole Lewis of Warren, and lighting design by Robert Seesselberg of Warren NJ.
"The biggest challenge with Carmen is that everybody knows it and you don't want to let them down." Lewis says. "Everyone has grown up with the melodies, which are included in TV commercials." A lesser work might be overwhelmed by such popularity, but Carmen—character and opera— are powerful enough to be up to the challenge. Indeed, what attracts Lewis to the role is Carmen's unyielding strength and determination. "Carmen is a free spirit." she says. "She sets high standards and won't be pushed around. Her relationship with Jose is complicated. She loves him but she tires of him when he becomes obsessive and jealous. Her love burns brightly with passion but fizzle after about 6 months. When Escamillo, the Bull Fighter, comes into the picture she is ready for a new adventure even though the tarot cards have told her of her impending death. "
The cast of "Carmen" includes Karole Lewis as Carmen, Peter Lewis of Warren as Don José, Justyna Geirmola, of Fort Lee, NJ as Micaela, Ted Dougherty of Hoboken NJ as Escamillo, Rachael Hirsh, of Manhattan as Mercedes, Brenda Belohoubek as Frasquita, Kevin Peters as Remendado, Minsu Park of Plainsboro as Dancairo, Don Kalbach of Bound Brook as Zuniga, Roy Curiale of Warren as Morales and Tom Loughman as Lillas Pastia.
Tickets are $35 for the general public and $25 for senior citizens and students. Group rates are available. Contact Lou Kersey at 908-566-5708 or email: loukersey(at)easternopera(dot)org. Tickets may also be purchased online by visiting http://www.easternopera.org.
About Eastern Opera of New Jersey:
Eastern Opera Corp. is a nonprofit corporation organized and operated exclusively for charitable purposes. Specifically, Eastern Opera has been formed to encourage and instruct individuals for the purpose of improving and developing their capabilities, to educate the public on subjects useful to the individual and beneficial to the community, and to promote the arts and culture to the local communities. The first opera performance, Puccini's Madama Butterfly (May, 2013) was met with standing ovations. For more information contact Lou Kersey at loukersey(at)easternopera(dot)org or visit http://www.easternopera.org.