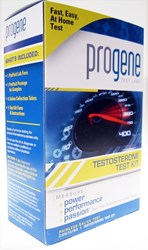 WebMD.com and Lilly USA published the 8 most important questions men should ask their doctors. Number 1? 'How does low testosterone affect my heallth?'
Cincinnati, OH (PRWEB) January 30, 2014
Progene® announces its exclusive distribution of At-Home Testosterone Test Kits at GNC, a leading retailer specializing in health and wellness products.
The Test Kit is a simple, non-invasive test that costs a fraction of a visit to the doctor's office. The test requires only saliva (simple spit)- a painless way of assessing free testosterone levels and one of the most reliable means for measuring hormone levels.
The Test Kits, now available at all GNC locations nationwide and online, give even more men with the opportunity to check their testosterone levels.
"Testosterone awareness should be part of every man's vocabulary. Too many men believe that their lack of energy or muscle decline is just a result of getting older when, in fact, it may be addressable by supporting testosterone production," states Michael Lee of Progene®.
WebMD.com and Lilly USA recently published the 8 most important questions men should ask their doctors. The #1 question was, "How does low testosterone affect my health?" Finding out levels is the first step to answering that question. And the good news? Men can do something about lower levels.
Testosterone is the naturally occurring sex hormone that controls the development and maintenance of masculine features. Male testosterone levels peak in the teens/early 20's and begin to decline 1-2% every year thereafter.
The easiest way to determine current testosterone levels? Progene's® new, At-Home Testosterone Test Kit.
The saliva-based Test Kit includes everything a man needs to find his levels: detailed instructions for collecting saliva, vials for samples, a unique barcode for pre-paid lab fees and a pre-addressed package to send in samples to the lab. Another benefit: results in 5 -7 business days.
The Journal of Clinical Endocrinology states that saliva is "a preferred method of measuring hormonal health." Dr. Lina Nasr-Anaissie agrees. A primary care physician with UC Health in Cincinnati, Dr. Nasr-Anaissie reports, "Using saliva, I've actually been able to solve and diagnose cases that traditional blood tests do not pick up. Progene®'s saliva test makes sense for tracking changing hormone levels."
Compared to a doctor's office visit, Progene®'s At-Home Test Kit is more convenient and less costly. Now, men can easily track how much testosterone they have left, and clearly see for themselves what Progene® can do. http://www.youtube.com/embed/vUdNoDWXJPg
Progene®'s mission 10 years ago remains the same today: To provide men with all all-natural solutions to natural problems, while helping to open channels of communication between men and their healthcare providers -- thus increasing men's physical self-awareness and overall health standards for themselves and others.
About Progene®
Founded in 2003, Progene® continues to lead the market by addressing the decline of testosterone levels in men as they age. With over 20 million tablets sold, Progene®'s dual-action formula of 19 rare herbal extracts and clinically proven testosterone precursors helps to provide men the ingredients they need to produce more testosterone.
Progene® continues to evolve and innovate. The addition of the At-Home Testosterone Test Kit gives men the opportunity to actually see for themselves what Progene® can do to help restore their Power, Performance & Passion®.
Progene® is currently sold nationwide at GNC Stores, GNC.com, Costco.com, Meijer, Stop & Shop, Bi-Lo Winn-Dixie, Vitamin Shoppe, Rite Aid, USADrug, Drugstore.com, Sears Marketplace, Harris Teeter Groceries, Brookshire's Food & Drug, Shopko, LuckyVitamin.com, and more than 150 other local and regional retailers