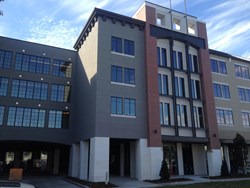 Tampa, Florida (PRWEB) January 22, 2014
Risk and uncertainty are rife in the EB-5 World; the terms 'no guarantee' and 'at-risk' are cited wide across the industry. However, Mainsail Lodging and Development of Tampa, Florida have come up with a new and unique approach to an EB-5 project with their latest development, the 'Epicurean Hotel'.
The 137 room, $40 million Epicurean Hotel project, based in downtown Tampa, Florida is the first built-from-scratch hotel in the United States to join Marriott International's 'Autograph Collection' of boutique luxury hotels.
Typical EB-5 projects face lengthy 18-24 month project development times, risks of the project not being completed on time, cost overruns, potential permitting issues and possible delays on returns until the project is operational.
Mainsail has a project that is now built and operating which mitigates some of this risk and uncertainty.
The Mainsail Epicurean Hotel is a job creating enterprise in their EB-5 program. The Epicurean opened for business on December 18, 2013 – a developed and operating property and therefore likely reducing those concerns over development, build time, construction risks and job creation.
So how was this possible, the answer; 'Bridge-financing'.
The May 30, 2013 USCIS Policy Memorandum states that if an EB-5 project utilizes interim or bridge financing prior to the receipt of the EB-5 capital and subsequently replaces it with EB-5 capital, the new commercial enterprise may still receive credit for the job creation under the new guidelines.
As such, Bridge or interim financing provides the opportunity for EB-5 project developers to take out short term financing to help construct and develop the project, then EB-5 capital as it is received may replace that short term financing yet still receive credit for creating jobs.
Take a fresh look at EB5 projects and check out Mainsail Lodging and Development's EB-5 Program over at http://www.eb5mainsail.com