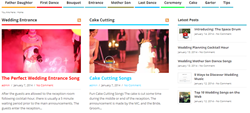 New York, NY (PRWEB) January 14, 2014
Created with the musically-obsessed couple in mind, this wedding song website is by far one of the most complete sources of wedding music ever created. Seward Park Tech has launched http://songs.w3ddingdj.com, an extension to their original wedding website, containing thousands of wedding song choices and some very helpful articles using the knowledge they gathered from providing entertainment at hundreds of memorable weddings and events around the country.
"The wedding songs that you choose to play on your wedding will have a huge impact on your event. Much like a film score, personalized wedding music tells a story, sets the ambiance, and will enhance the emotions felt by you and your guests throughout each part of your special day. This website was created by and for music lovers," says Kieffer Ramirez, President at Seward Park Tech.
With colorful navigation options, this website organizes the song recommendations by categories such as father-daughter, cake, mother-son etc. Within the categories you will find thousands of song suggestions, some even containing a video lightbox link so you can listen to the songs without leaving the website. There is also an option to subscribe on the right sidebar in order to receive future update notices.
About Seward Park Tech:
Seward Park Tech is a DJ and Lighting company servicing the Tri-State area. Their Marquee DJs have years of experience spinning at the most elite night-clubs around the country, and the Lighting designers have designed the lighting and special-effects for numerous movies and theater productions around New York City. The lighting, special effects and music are combined to bring the magic of theater into weddings and other special events. Founded in 2010, Seward Park Tech has come a long way, earning dozens of 5-star reviews across the board and winning prestigious entertainment awards such as 'The Knot's Best of Weddings' and 'Wedding Wire's Bride's Choice Award.' Seward Park Tech is also a member of the very exclusive Style Me Pretty's Little Black Book and is one of the very few vendors found on the popular wedding website WeddingChicks. For more information, please visit http://www.w3ddingdj.com.