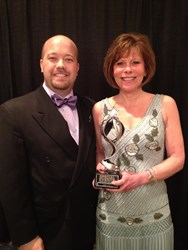 Our ability to produce custom structures like this is what helps us create once in lifetime events for our clients!
Nashville, TN (PRWEB) January 13, 2014
The Gala Awards have been given by Special Events Magazine since 1986 and recognize the most exciting event work from companies worldwide.
Arena Americas was nominated for and awarded Best Tent Installation for the Tiffany & Co. Blue Book Gala at Rockefeller Center in New York City. Arena installed a 39m x 31m structure at a 12° pitch for the event and wrapped it with a custom 21' tall fabric façade. Arena created the façade with special-order trademark Tiffany Blue fabric. The entrance was enhanced by a giant replica of the Tiffany & Co. blue gift box complete with white bow.
Arena Americas has been in the US since 1966 and supports a variety of events including some of the most prestigious sporting, corporate and private events in the country including NFL Super Bowl, Mercedes-Benz Fashion Week, as well as PGA and NASCAR events.