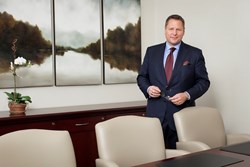 Private Mortgage Solutions will be the first bank-based mortgage organization of its kind in Atlanta, combining the bank's specialized focus on exemplary client service with our proven marketing abilities and consumer-oriented processes
Atlanta, Georgia (PRWEB) January 15, 2014
Private Bank of Buckhead, which just last month celebrated its seventh anniversary, has announced it is expanding its Private Mortgage Services division, which it will re-brand Private Mortgage Solutions.
Private Mortgage Solutions will be led by mortgage veteran Dan Smith, most recently of BrightPath Mortgage, LLC, which he led as Founding Member. Smith entered the mortgage industry in 2001. An entrepreneur, he also has funded, led and grown several other businesses dedicated to the financial services industry.
Charlie Crawford, the bank's president, CEO and chairman, notes that, "Dan's approach to mortgages is in step with our overall service philosophy, engaging seasoned professionals who are decision makers to bring tailored solutions to their clients in a service-centric model. It's an approach our banking and mortgage clients have affirmed, and one which we are proud to grow under Dan's leadership."
Smith adds, "I am excited by this opportunity, pairing our shared track records of high-touch service so that we can even better serve clients' full spectrum of needs – banking and mortgage, offering them tailored solutions informed by seasoned professionals. The expanded mortgage enterprise gives us the ability to provide the best products, pricing, and process to consumers across a variety of metropolitan markets."
"Private Mortgage Solutions will be the first bank-based mortgage organization of its kind in Atlanta, combining the bank's specialized focus on exemplary client service with our proven marketing abilities and consumer-oriented processes," Smith says. "Private Mortgage Solutions' customers will receive best-in-class options and outcomes."
Private Mortgage Solutions will be reflected online at http://www.PrivateMortgageSolutions.com. Offline, Private Mortgage Solutions will occupy the bank's expanded footprint in Building Three, Piedmont Center.
Smith notes that Private Mortgage Solutions, a division of the bank, offers a full range of mortgage products: Purchase, Refinance, Investment, Jumbo products, Second home, Construction, Multiple collateral, Fixed second, Home equity, Lot loan, and more.
"I am very pleased to lead this organization," he says. "Rarely are you able to engage in meaningful work, with the assistance of fantastic people, at such a great organization."
Other expansions for the bank, since its founding December 11, 2006, include: In 2008 adding a Small Business Administration lending department that within a year earned SBA Preferred Lender Status, which has continued to be renewed. The aforementioned Private Mortgage Services was established in 2010. And, in October 2012 the bank opened a Decatur location, known as Private Bank of Decatur; it recently celebrated its one-year anniversary.
"Whether it's checking, savings, online banking technology, business lending or mortgages, we believe all clients should benefit from the heightened level of service other banks reserve for a certain few," Crawford says. "That's what the 'private' in our name signifies: We don't send just certain clients to a private banking department with heightened offerings – we're bringing all of our clients the service, options and technology they value. That they deserve."
Private Bank of Buckhead (http://www.PrivateBankOfBuckhead.com) is located in Piedmont Center (Building Three) in the Buckhead community, Atlanta's financial district. The Private Bank of Decatur division (http://www.PrivateBankOfDecatur.com) is located at 150 East Ponce de Leon Avenue in Decatur, Georgia. Private Mortgage Solutions is represented in both the Buckhead and Decatur locations.