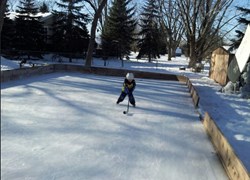 Minnesota is the State of Hockey. Nothing proves that more than the number of backyard rinks throughout our state.
Minneapolis, MN (PRWEB) January 15, 2014
Minnesota law firm McSweeney / Langevin announces 612-ASK-DAVE Backyard Rink Contest.
The contest is open to all Minnesota residents. There will be a Metro winner and a Greater Minnesota winner. Winners will be announced in the middle of February.
The Metro winner will win the privilege of having Minnesota hockey legends skate on their rink. As of now, the list includes, 4 time Stanley Cup winner Dave Langevin. The Greater Minnesota winner will receive 4 Club Level tickets to a Minnesota Wild Home game.
About the personal injury law firm of McSweeney / Langevin
With the sole purpose of helping the injured, the personal injury law firm McSweeney / Langevin ensures victims and victims' families are adequately compensated for wage loss, medical expenses and pain and suffering. While most firms have you speak with an "investigator" or "case manager," McSweeney / Langevin connects people with one if its attorneys who will be handling your case. The firm handles personal injury cases related to dangerous/defective pharmaceutical drugs, dangerous/defective medical devices, and serious/catastrophic injury claims.