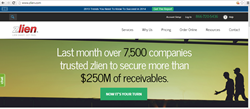 "Whether you are a small business facing payment complications or an enterprise with ongoing compliance issues, the site is meant for easy navigation and a smart, manageable approach to leveraging our resources."
New Orleans, Louisiana (PRWEB) February 12, 2014
zlien's new website is now live allowing optimized access to mechanics lien and bond claim resources in addition to offering updated Newsroom features and a Credit Academy for construction financial professionals. The new website also includes information about zlien's all-in-one lien and security platform, as well as free, downloadable e-literature on the subject of managing accounts receivables and best practices in construction credit management.
"This website's new interface stands on the shoulders of the previous installation, which gave credit and financial professionals access to industry leading resources on mechanics lien and credit management subjects," says CEO, Scott Wolfe. "Whether you are a small business facing payment complications or an enterprise with ongoing compliance issues, the site is meant for easy navigation and a smart, manageable approach to leveraging our resources."
As a part of the redesign, zlien is introducing a Credit Academy, which provides credit and finance professionals organized access to an in-depth library of expertly drafted resources, as well as guidance on how to become a more successful financial manager. The company's Newsroom has also been updated to include a space for media inquiries, incorporating the option for publications and trade organizations to leverage zlien's mission and empower their communities to receive payment on every project. Media members can now request custom articles for publication, an interview with one of the experts, speaking engagements or licensed content for trade organizations.
"The redesigned interface will make taking control of lien and bond claim compliance much easier for members of the construction community. Issues of payment in the industry have been messy and complicated for too long," says Wolfe.
A new section on the website is introduced with the launch of this redesign, which guides enterprise organizations on how to leverage security and lien rights to "reinvent their receivables funnel." The visitor is provided content about a proven methodology that protects subcontractors and suppliers on a construction projects and inverts the nature of financial risk by streamlining the filing process. For users that are familiar with zlien, the website will still be familiar.
"We incorporated a lot of user feedback and expert review of our design choices," says Martin Roth, the company's Director of Business Development. "The functions our visitors loved are underscored, and the functions that were desired are front and center."
In addition to content and design improvements, the new interface is responsive to work perfectly on any browser, including mobile and tablet browsers.
zlien provides software and services to help building supply and construction companies reduce credit risk, and control receivables, through the management of mechanics lien and bond claim compliance. Founded by experienced construction attorneys, zlien is the leading publisher of mechanics lien and bond claim resources and analysis, and has led the industry in innovating credit risk management solutions by utilizing the lien and bond claim laws. Learn more about zlien at http://www.zlien.com.