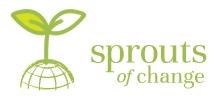 The amount of positive impact they have brought thus far inspires us to continue to fully support them improving the lives of the most vulnerable.
Boston, MA (PRWEB) January 14, 2014
Sprouts of Change, a new children's clothing company based outside of Boston, officially launched this week offering unique value for parents and their children. The company provides quality children's clothing and donates a gift to improve the lives of children around the world. Once a purchase is made, customers receive a code enabling parents and their children to explore information on the company website about the location where their donation was made.
Sprouts of Change set out to produce quality clothing that can make a tangible difference in people's lives. "At the core, our focus is to improve the lives of our children," states Sprouts of Change Founder and CEO, Jeff Morton. "We wanted to create a company rooted in this principle, using commerce to positively impact children's lives, while providing real and meaningful learning."
Utility, philanthropy, and education stand as the three core components of the company enabling the intended positive impact to be experienced by purchasing parents, their children, and child beneficiaries.
For utility, the company strives for high quality, comfortable clothes that children can wear every day. Currently, the company is offering their first line; polo shirts. Privately designed and produced, the 100% cotton shirts feature a unique, tagless cut. Available in sizes 3T to 7, each shirt has the low-profile Sprouts of Change logo.
The philanthropic donation takes shape in two primary ways. Through partnership with San Francisco-based Project Night Night, a nonprofit providing childhood essentials to homeless youth, Sprouts of Change is able to provide for a Night Night package with comforting stuffed animals, blankets, and books to children in homeless shelters. Through a similar collaboration with Blue Dragon Children's Foundation, an organization assisting victims of child slavery and human trafficking in Vietnam, Sprouts of Change donates school uniforms to children to help provide the gift of education. "We are lucky to work with such great organizations," commented Morton, "the amount of positive impact they have brought thus far inspires us to continue to fully support them improving the lives of the most vulnerable."
Sprouts of Change aims to add the educational component to the traditional "buy one, give one" model, to allow for lessons in sharing and the importance of caring for others. The company's goal is to enable children to participate in this sharing and provide an opportunity for meaningful learning to occur not just with the value of giving but regarding other areas and people of the world. The purchase enables parents and children to enter into a rewarding experience together, promoting this learning to take place through time spent together.
Sprouts of Change products are currently sold on their website and will feature in boutique children's clothing stores throughout the country starting in the spring of 2014.
About Sprouts of Change:
Sprouts of Change is a children's clothing company founded with the intention to redefine value in children's clothing joining quality apparel, philanthropic impact, and a unique learning experience.