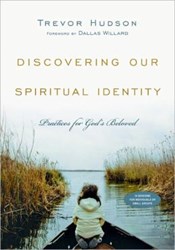 Trevor Hudson has done a great service, first by writing this book, and second by leading our book club conversation. - Executive Director Rachel Quan
Denver, CO (PRWEB) January 14, 2014
The Renovaré Book Club begins 2014 by focusing on Trevor Hudson's excellent book Discovering Our Spiritual Identity. Starting January 1, Book Club members will be immersed in conversation about the impact our spiritual identities have on our spiritual lives.
The Book Club is a powerful tool for formation in community. Christians worldwide have participated in past conversations, benefiting from books such as Frank Laubach's Letters by a Modern Mystic, Thomas Kelly's A Testament of Devotion, and Traveling Unfamiliar Pathways compiled by Margaret Campbell. Each conversation is led by a host who can provide insight into the material and provoke deep reflection. Trevor Hudson himself will be leading the conversation on his book.
The Book Club is designed to provide multiple means for understanding the material. A webinar with the host serves as a starting point, with further host-led audio discussions. Additionally, every book club member will receive both a study guide for each book, and three articles expanding on it. Best of all, interaction on the books need not end when the club finishes. Conversation can continue via Goodreads.com throughout the year.
Discovering Our Spiritual Identity uses common language to express spectacular truths about our identity with God. Whether discussing friendship, the afterlife, or living in this present world, Hudson is able to speak directly to the reader's heart. He also encourages people to put their words into action by "holy experiments" in each chapter.
"Trevor Hudson has done a great service, first by writing this book, and second by leading our book club conversation," says Renovaré's Executive Director Rachel Quan. "Discovering Our Spiritual Identity will be both challenging and comforting to our Book Club members as Trevor reveals the ways in which Christians invest their identities in the wrong places. Once that is done, our true identities can grow."
Anyone can join the Renovaré Book Club. A gift of $50 gives you the opportunity to dig into six books alongside other Renovaré friends. Learn more about our Book Club and the books we on our website.
Renovaré is a nonprofit Christian organization headquartered in Englewood, Colorado, and active worldwide. The ministry seeks to resource, fuel, model, and advocate more intentional living and Spiritual Formation among Christians and those wanting a deeper connection with God. A foundational presence in the Spiritual Formation movement for over 20 years, Renovaré is Christian in commitment, ecumenical in breadth, and international in scope. Renovaré was founded in 1988 by Celebration of Discipline author Richard J. Foster. To schedule an interview with Executive Director Rachel Quan, please call Joan Skulley at 303.792.0152 or e-mail her at joan(at)renovare(dot)org.