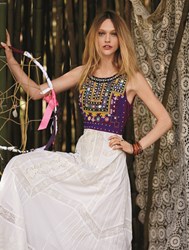 Free People has long felt ties with Miami and its eclectic beach vibe.
(PRWEB) January 15, 2014
Specialty fashion brand, Free People, is coming to Miami, Florida in early spring with consecutive openings of two dedicated boutiques in January and February 2014. The first to open will be a 2,500-square-foot store at Dadeland Mall, opening January 31st, in the center's newly developed wing. Free People will be one of the final retailers to take residence in the new location. The second opening in the area will be a free-standing boutique on Collins Avenue in Miami Beach's famous historic Art Deco district. The 2,600-square-foot store is scheduled to open its doors on February 28th.
The brand's retail division has been rapidly growing, and Miami is a city that has long been on the company's radar. In January 2012, Free People operated 62 boutiques nationwide, but in just two years the number has grown to 90 locations across the US and Canada, as well as the launch of two stores in Japan. Additionally, with demand from the Miami area on the rise through Free People's ecommerce business, the company is confident that the city's loyal customer base will share in the excitement for the opening.
"The city is full of creative individuals whose style speaks directly to the brand," says Beth Wehagen, Free People Director of Retail. "Free People has long felt ties with Miami and its eclectic beach vibe."
The Miami stores will be designed around traditional Free People concepts to align with the brand's look and feel. Dadeland will include quintessential Free People elements such as glittering plaster walls, reclaimed wood floors, and quilted patchwork accents. At the Collin's Avenue boutique, the original storefront will be preserved with the only addition to the building façade being a newly developed sign, displaying "Free People" in pin-mounted steel flowers. Both locations are going to feature their own custom-made decor elements that celebrate the brand's hand-touched aesthetic.
"Free People will be a phenomenal addition to the Kendall wing at Dadeland Mall as we continue to enhance our already popular shopping experience," said Maria Prado, General Manager at Dadeland Mall. "The retailer's unique concept will be the perfect complement to our attractive mix of stores in the new wing, plus further brand Dadeland Mall as one of Miami's favorite shopping destinations."
The boutiques will open with an assortment of Free People's spring collection. New silhouettes such as rompers, high waisted denim, and shorter-length tops will begin to appear as fresh ideas for the season, while classic Free People favorites, including crochet and flowing dresses, are also prevalent. Shoppers will be able to find all of their Free People labels, including Intimately Free People, New Romantics, FP ONE, FP X, We The Free, and more. At the Dadeland boutique in particular, fans will find a fresh floral story twisted with modern elements.
Each Free People store offers personalized shopping experiences from a team of expert stylists. Customers can schedule a one-on-one appointment with their favorite stylist, as well as interact and gain inspiration through the brand's online Style Community, FP Me. In addition to offering personal styling, Miami fans can look forward to a variety of in-store events to be hosted at the Free People Dadeland and Collins Avenue stores throughout the year.
Free People Miami will be located at Dadeland Mall, 7535 N Kendall Drive, Miami, FL 33156. Store hours will run Monday-Saturday 10am-9:30pm, and Sunday noon-7pm. The Miami Beach boutique will be located at 650 Collins Ave, Miami Beach, FL 33139.
Fans should "like" both stores on Facebook to stay up-to-date on all of the latest arrivals, events, and other happenings:
Dadeland (https://www.facebook.com/FreePeopleDadelandMall)
Miami Beach (https://www.facebook.com/pages/Free-People-Miami-Beach/419503231499206)
For more information, images, to request an interview, or to discuss a TV opportunity, please call Naomi Huober at 215-454-5808 or email nhuober(at)freepeople(dot)com.
About Free People
Free People is a specialty clothing brand featuring the latest trends and vintage collections for women who live free through fashion, art, music, and travel. The eclectic look consists of quality apparel, shoes, and accessories that invoke attributes of femininity, spirit, and creativity with its design. Free People is distributed globally via direct channels including the Free People Global site and Free People UK site, as well as specialty boutiques, top department stores, and the brand's free standing retail locations in the U.S. and Canada.
About Dadeland Mall
Dadeland Mall, Miami's original and most iconic shopping center is anchored by Florida's largest Macy*s, as well as Macy*s Home Gallery & Kids, Saks Fifth Avenue, jcpenney, and Nordstrom. This mecca of fabulous fashion and dining destinations spans more than 1.4 million square feet and features more than 185 retail stores and restaurants. The mall recently underwent a significant redevelopment, adding a chic new wing with 102,000 sf of revamped retail space housing an enviable group of stores and restaurants including Tommy Bahama, Microsoft, Tesla, and Urban Outfitters among others. Five new restaurants including Bobby's Burger Palace (now open), Aoki Teppenyaki, Earls Kitchen + Bar, Balans and Texas de Brazil will feature patio seating offering stunning views from the upper level overlooking Downtown Dadeland. Dadeland Mall is located at 7535 N. Kendall Drive in Miami, Florida between the 826 Palmetto Expressway and US 1. For more information on Dadeland Mall, please contact the mall management office at (305) 665-6226. From the entire team at Dadeland Mall, we hope that you will visit us soon.