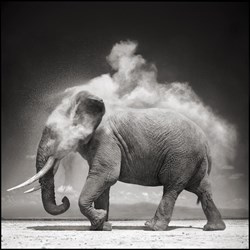 "You wouldn't take a portrait of a human being from a hundred feet away and expect to capture their spirit," says photographer Brandt.
Jackson Hole, Wyoming (PRWEB) January 15, 2014
Nick Brandt's transcendent images of African wildlife create a strikingly intimate connection with the animals he photographs. The National Museum of Wildlife Art in Jackson Hole, Wyo., opens the exhibition "Elegy: The African Photography of Nick Brandt, 2001 – 2008" on January 18, 2014, presenting a selection of these animal portraits that capture Brandt's individualized view of the animals within the context of their environment. The exhibition will be on display in the museum's King Gallery throughout Jackson Hole's busy ski season and will close on April 20, 2014.
Photographer Brandt, once a high profile maker of music videos, fell in love with Africa in 1996 while directing the music video for Michael Jackson's "Earth Song." He adopted an unconventional black-and-white fine art approach to wildlife photography that uses a medium-format camera and a portrait or wide-angle rather than a telephoto lens.
"I never planned to be a photographer, but I had always wanted to somehow capture my passion for animals visually, and it was only when I visited East Africa that I realized that there was a way to achieve this – through photography, and in a way very personal to me," explains Brandt in an interview with Professional Photography magazine.
Part of making it personal has been Brandt's decision not to use a telephoto lens, instead getting close to the animals to reveal their personalities. "You wouldn't take a portrait of a human being from a hundred feet away and expect to capture their spirit; you'd move in close," he says. But getting close requires patience, which Brandt cites as one of the keys to his art. He frequently spends days waiting for the right moment and composition for one of his wildlife photographs.
Brandt goes on to say that he hopes his photographs will help raise awareness about the pressure humankind is putting on wildlife. "I want my images to achieve two things in this regard," says Brandt, "to be an elegy to a world that is tragically vanishing, to make people see what beauty is disappearing. Also, to try and show that animals are sentient creatures equally as worthy of life as humans."
Although the East African wildlife captured in Brandt's photography may be a world away from such Jackson Hole natives as elk, moose and bear that roam the museum's wild site overlooking the National Elk Refuge just outside the town of Jackson, Wyo., the Nick Brandt "Elegy" exhibition resonates deeply with the mission of the National Museum of Wildlife Art, which includes exploring humanity's relationship with nature through fine art.
Petersen Curator of Art and Research for the National Museum of Wildlife Art Adam Duncan Harris will personally introduce the new "Elegy" exhibition in a special "Sneak Peek" gallery walk at 11:30 a.m. on January 17, 2014. The Sneak Peek is free with museum general admission or membership.
The National Museum of Wildlife Art is open 9 a.m. – 5 p.m. Monday – Saturday and 11 a.m. – 5 p.m. on Sundays. Admission is $12 for adults, $10 for seniors, $6 for children 5-18 and no charge for children under 5 and museum members. Ride the free local START bus to the museum and receive $1/person off admission.
Company Information:
A member of the Association of Art Museum Directors and the Museums West consortium and accredited by the American Association of Museums, the museum, officially designated the National Museum of Wildlife Art of the United States by an act of Congress in 2008, provides an exciting calendar of exhibitions from its permanent collection and changing exhibitions from around the globe. A complete schedule of exhibitions and events is available online at http://www.wildlifeart.org. The museum is also active on Facebook and on Twitter at @WildlifeArtJH.
Contact:
Darla Worden, WordenGroup Strategic Public Relations, 307.734.5335, darla(at)wordenpr(dot)com