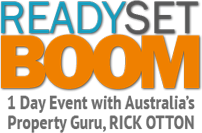 Even in a property boom, many property owners are going broke trying to pay off their negatively geared properties, struggling to sell their property in a cash-less economy
Sydney, Australia (PRWEB) January 14, 2014
Creative real estate authority, Rick Otton, is renowned in Australia and overseas for his low-risk, high-reward property investing strategies that work whether the market is rising, falling or booming. The self-made property millionaire has announced an Australian tour of free one-day events to share his exclusive insights with seasoned and aspiring property investors, with the first event to kick off in Sydney on 11 February 2014.
The Ready Set BOOM tour will begin with a Sydney real estate investing seminar highlighting tried-and-tested methods of buying and selling property at any time – and in any location.
"This no-charge event will help participants discover fast, simple and powerful strategies to get in the market now," Mr Otton said.
Uniquely Rick Otton
Mr Otton said while there was no better time to invest in property in Australia given the property boom in many parts of the nation, he urged people to think long-term to minimise risk.
"Prices have gone up, auction clearance rates are on fire, the bank share index is up 54 per cent in the past 12 months and median house prices are up 7 per cent," he said.
"But what happens if the market in Sydney falls? Will you be stuck with a property that could be consuming a lot of your own cash and become worth less than what you owe.
"Even in a property boom, many property owners are going broke trying to pay off their negatively geared properties, struggling to sell their property in a cash-less economy and abandoning their dreams of home ownership because banks have tightened lending."
Mr Otton has mentored more than 35,000 property investors in Australia, New Zealand and the US through his unique methods of building a property portfolio and long-term wealth without needing a bank deposit, reserve cash or experience in the field.
He said people who secured a seat at the Sydney real estate investing event would learn about vendor finance, positive cash flow, how to secure the price they wanted when selling a property and creating cash flow with no loan liability.
"*Creative real estate* investing in Australia is the way of the future," Mr Otton said. "I would urge anyone in Sydney who is serious about making money in property to reserve their seat at the Ready Set BOOM event to avoid missing out."
For more information or to register, at no cost, for the Sydney event, visit http://www.readysetboom.com.au
About Rick Otton
For over 23 years property millionaire Rick Otton has built an impressive real estate portfolio using innovative strategies that he has developed – strategies in which transactions are made without the need for traditional bank-type loans. He constantly refines his techniques as he buys and sells properties through his We Buy Houses business which operates in Australia, New Zealand and the UK.
A gifted speaker and educator, Mr Otton conducts regular one-day free seminars across Australia, which build on the the concepts he shares in his 2012 book 'How To Buy A House For A Dollar', voted by Money Magazine and Dymocks Book stores as one of the Top 10 Most Popular Finance Titles for 2013.
He regularly records and publishes iTunes podcasts via his channel Creative Real Estate.
His innovative low-risk, high-reward approach to Australian real estate investing has been featured in a variety of television programs and magazines, including Today Tonight, Hot Property and Australian Property Investor.
To register for one of Mr Otton's free Australian one day seminars visit http://www.readysetboom.com.au or phone, in Australia, 1300 888 450