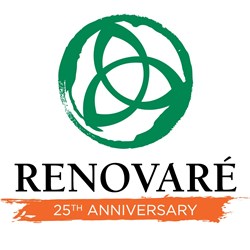 The future is bright. - Jon Bailey Chair of the Board of Trustees
Denver, CO (PRWEB) January 19, 2014
Renovaré's 25th year of ministry came to a close on December 31, 2013. This past year included much new growth for Renovaré. Jon Bailey, Chair of the Board of Trustees, is looking ahead to 2014 and beyond. From the continuation of the Renovaré Book Club, to the national conference on April 3-5, 2014, many resources for Spiritual Formation wait in the wings.
"The future is bright," Bailey recently wrote, "and as I reflect on Renovaré's 25 year history, I am grateful for its organic and authentic growth."
The Renovaré Book Club is an example of that growth. A new book discussion began on January 1, 2014. Trevor Hudson's Discovering Our Spiritual Identity will help Book Club members explore what shapes their own identity. Hudson himself will host the discussion. March 1 will see The Leadership Ellipse by Bob Fryling take center stage. More books will follow in 2014, each encouraging readers to live the "with-God life."
Excitement is also building for Renovaré's national conference, scheduled for April 3-5, 2014. The event, which takes place at First Presbyterian Church of Houston, Texas, will focus on "Formation for Whole Life." Larry Crabb, Ruth Haley Barton, Eugene Cho, and others will speak on, and engage in conversations on Identity, Community, and Mission. Intensive sessions and workshops that aid in the outworking of these topics will be an integral part of the conference as well.
Couple these wonderful new developments with Renovaré's continued dedication to intentional, authentic Spiritual Formation, and you have a recipe for a rich, blessed 2014. People can still take advantage of the same resources that have proven themselves so reliable, and they can look forward to new things that will help them draw closer to Jesus.
If Renovaré has been a blessing to you, please consider making a donation to help our ministry's continued growth. The more people living life with God, the greater blessing the Church can be worldwide. Click on this link to help us continue to share our resources.