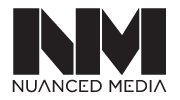 "By becoming a Google Partner, we uphold the highest standards of quality, trust and expertise for our clients," CEO Ryan Flannagan, Nuanced Media.
Tucson, AZ (PRWEB) January 17, 2014
Nuanced Media has become one of only two Google Partners in the Tucson area. In order to become a Google Partner, agencies must complete a number of requirements in order to establish credibility. These include certifications in AdWords, providing and proving best practices to clients, meeting spend requirements to show healthy agency activity, and setting up a company profile.
Digital marketing is on the rise. However, because its methods are fairly new, many business owners are not only unsure about how digital marketing works, but also struggle to determine what a good versus a bad digital marketing agency looks like. Use of seemingly sophisticated tech language and broad promises can often overshadow an agency's true legitimacy and has left many clients upset and unsatisfied. Holding the Google Partner badge means that a particular agency is not only credible, but their credibility is certified by both their clients and the preeminent name in internet technology: Google.
Nuanced Media holds itself to a higher standard. They are committed to providing quality work and an educational experience for their clients, so that they can make the most informed marketing decisions. As a full-service marketing agency, Nuanced Media delves into areas others do not. The team is built from like-minded experts in various fields, including business, Internet marketing, SEO, media relations and graphic design. Their broad expertise allows Nuanced Media to tailor strategies to meet their needs while exploring new opportunities and markets. They communicate with each client every step of the way and provide metrics to show quantifiable gains.
Hiring a marketing firm to represent you and your company needs is a big step. Nuanced Media always makes sure clients are well-informed from the start. Becoming a Google Partner is just another step to provide increased assurance and instill confidence in all current and future clients. Nuanced Media will always go the extra mile to foster client comfort and success.
"Digital Marketing is the wild wild west of marketing," says CEO Ryan Flannagan, "There are a lot of people and companies out there trying to make a quick buck at other companies' expense.
Nuanced Media is proud to help companies grow the right way with a sound digital marketing strategy, value added content, and by being our client's bridge to the digital world. By becoming a Google Partner, we uphold the highest standards of quality, trust and expertise for our clients.
In the wild wild west of digital marketing, it is helpful to be able to distinguish the Billy the Kids from the local sheriff ... and we wear our Google badge with pride."
About Nuanced Media
Nuanced Media is a digital marketing and graphic design firm. The company specializes in strategic, multilayer marketing campaigns and efficiently crafted, user-friendly websites. Based in Tucson, the company has a variety of clients throughout Arizona, California, and Texas. For more information, please view Nuanced Media.